How do you go about choosing a life insurance provider that is right for you?
If you're new to life insurance, you may feel confused about how to get started. How can you be sure the cover you're purchasing is the right policy for your needs?
Between 2000 and 2017, the total number of life insurance policies issued in Singapore jumped from just over 4 million to nearly 14.3 million. That's a huge increase, and it suggests that consumers are getting more familiar with the benefits proper life insurance cover provides.
To help guide you in your life insurance research, we've compiled the following list of 10 questions. Answer as many of them as possible before selecting your new provider.
Question #1: Are you licensed by the MAS?
Insurance products are among the most tightly regulated financial products in Singapore. Like banks and other financial institutions, insurance companies come under the purview of the Monetary Authority of Singapore (MAS).
When considering life insurance providers, ask any candidates you're considering whether or not they're licensed by the MAS. That goes not just for the provider, but for any agents you're working with as well. In September 2015, the Singapore-based arm of Mercer was fined SGD 15,000 for allowing employees to sell insurance policies when they hadn't passed the Capital Markets and Financial Advisory Services exam.
Be safe, rather than sorry, by confirming providers' licenses before going further.

Question #2: What type of life insurance policies do you offer?
Generally speaking, there are three primary types of life insurance:
Term life insurance, which is in effect for a defined period only, but is usually renewable
Whole life insurance, which lasts until age 99 and accrues cash value
Universal life insurance, which is owned by the policy-holder and accumulates savings throughout its life
These three types of insurance have their own benefits. Term life insurance, for example, is flexible and customisable, while whole life insurance provides a cash value upon surrender. Meanwhile, universal life functions as a wealth-building vehicle that can benefit your family after your death. A good insurance agent can help you determine which policy type is most appropriate for your needs.
Question #3: Will you help me choose my cover?
Term, whole life or universal life insurance isn't the only question you need to be asking when deciding on a policy to buy. You also need to consider factors such as:
Your age
Your current income
The number of dependents you support
The result of these different factors is that there is no single policy that's right for everybody. Instead, it's important that you choose a provider who can help you navigate the quoting process to ensure you select the right type and amount of cover. For example, with Singapore Life's 100% digital journey, you can easily customise the term life policy needed for your unique situation.
If the life insurance provider you're considering does not offer this type of support, consider looking elsewhere.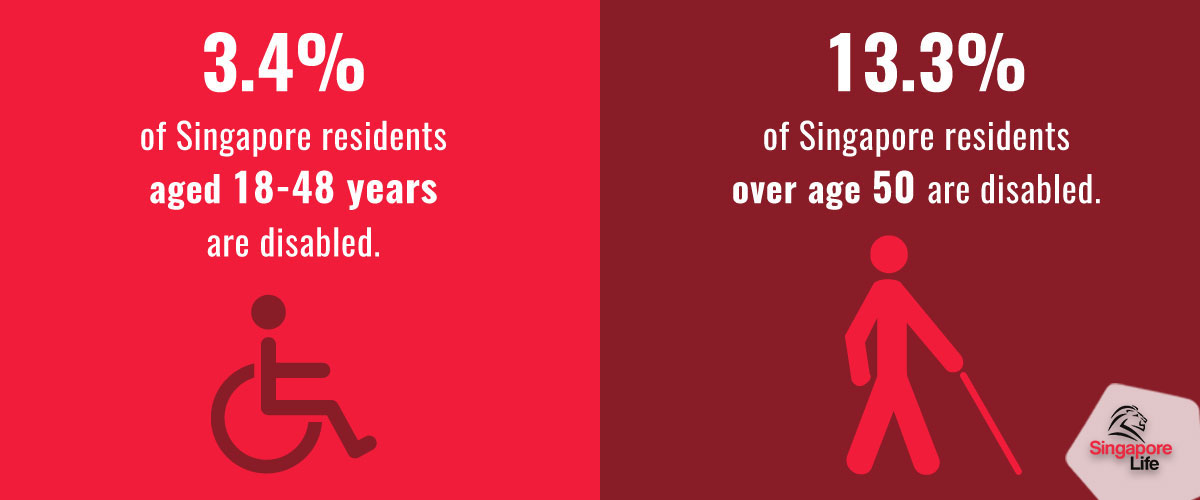 Question #4: Will my policy cover me if I become disabled?
Life insurance is meant to pay out benefits in the event of your death, providing support for your dependents and offsetting any end-of-life costs. But what if an injury or illness causes you to become disabled, instead of dying outright?
It's an important question. Although only 3.4 percent of Singapore residents aged 18-49 years are disabled, 13.3 percent of residents over age 50 are designated as disabled. Your risk of disability – including all of the financial burdens that come along with being unable to work – increases as you age. Having disability protections in place (whether as part of your policy or as a separate rider) can minimise the negative impacts of becoming disabled.
Question #5: Will I be required to have a medical evaluation?
With life insurance policies, it is common practice to require a medical evaluation once a certain amount of cover has been requested (at Singapore Life, for example, you can purchase a term life insurance policy of up to SGD 2 million before an exam is required).
Insurance providers base their premium amounts on many factors. Smokers or those who are obese, for instance, typically pay more, based on their average life expectancy and rates of disease. Medical evaluations play a key role in determining which of several pricing tiers life insurance applicants fall into and, thus, how much they'll pay for cover.

Question #6: What is excluded from my cover?
Every life insurance policy is different, which means you can't make assumptions about the specific scenarios that are covered.
If there are particular circumstances you are concerned about – such as cover for a serious disease – ask questions of potential providers and read the fine print of any documentation they provide. It's crucial to know for sure that your policy covers you for the risks you are concerned about, than to be let down by cover that doesn't provide relief when you need it.
Question #7: What happens if I miss a payment?
No one likes to think about financial challenges, such as an unexpected bill or lost job. Yet, these situations can and do occur – often unexpectedly.
Plan ahead by asking potential life insurance providers what will happen to your policy in the event of a missed payment. Is there a grace period during which you can reinstate your cover by paying your premiums in full? At what point will you have to reapply for new cover?
Consider the case of term life insurance. The older an applicant is, the higher the premiums tend to be. If you allow your policy to lapse after years of cover, you may find yourself subject to higher rates if you are forced to reapply at an older age.
Question #8: Do you offer any savings or rewards opportunities?
Depending on the life insurance provider you choose to work with, savings or rewards opportunities may be available that help offset the cost of your policy premiums.
Singapore Life offers the Stay Active health programme, which uses fitness trackers and pedometers to measure your activity. If your device records a higher number of steps than half of your Singapore Life peers, you'll earn a 5% cash back bonus for the month (an additional 5% cashback is available for posting about the program on social media). Other providers may offer discounts based on payment schedules, payment types or other policy elements.
Remember, it never hurts to ask! You won't know which discounts or rewards are available to you unless you ask in the first place.

Question #9: How can I access my policy documents?
Convenience is key when you need to access your policy documents. Check with every life insurance provider you're considering to see how they make your documentation available.
Will you need to reference or request paper versions of your key documents? Or does the provider offer an online portal that will allow you to view digital versions whenever you need to? For instance, many Singapore Life customers appreciate the ability to store their documents online and retrieve their documents instantly, using our fully-digital system. It's all about speed, access, convenience and how your life insurance policy fits our fast-paced digital age.
Question #10: How can I get help with my policy?
Finally, try to find out how easy it is to get in touch with the customer care teams of different providers. Are they available by phone, email, live chat or some combination of these channels? How long do you have to wait for a response using each of them?
If your provider is slow to get back to you before you're even a customer, they may be equally as slow – if not more so – once you've signed on. Questions about your policy may be able to wait through these delays, but in the event of an emergency, you'll appreciate having a provider who's quick to respond to your inquiries and help you navigate challenges efficiently.
---
Final Window to Apply for Singlife Protect Products
From 20 September 2021, our Singlife Protect products sold on our website will no longer be offered to customers. If you are an existing policyholder of our Term Life, Critical Illness, Cancer Plan, My First Life Insurance products, do not worry, your policies will not be affected in any way. Note that this change does not affect Singlife Account or Singlife Grow policyholders either.
For more information, click here.