We've all experienced times when the market isn't doing so well. We saw this in February and March, where markets experienced a decline from the highs of Q4 2020. In this article, we address 2 questions:
1. Are there smart strategies to adopt in when markets trend downwards?
2. How has Grow performed in February despite this?
1. Are there smart strategies to adopt in when markets trend downwards?
The first strategy is to not forget logic in face of worry!
This does not mean you do not withdraw or put in money, but rather, keep calm and make rational decisions.
While it may feel like you've lost money when your investments go down. But consider this fact: you have not lost money yet. You've only incurred a 'paper loss'. You only lock in your losses when you actually sell your holdings.
Secondly, while some experts may claim that what we're looking at is a 'bear market' and that the best way to behave during a bear market is much like how you would deal with a grizzly bear- play dead i.e. stay calm and not make any sudden moves, there is indeed some truth we can extract from that. There is an old adage on Wall Street: "The Dow climbs a wall of worry", historically, the Dow has continued to rise in the long run despite fears of global catastrophe and short-term ups and downs. So it is important that you keep calm and consider the facts before making investment decisions.
Dollar Cost Averaging
Business cycles will have crests and troughs. In other words: it is normal to have negative years. If you are a long-term investor with a time horizon of ten years or more, this is where investment strategies like dollar-cost-averaging help. In Dollar-Cost Averaging (DCA), you invest a small, fixed amount, say S$1,000, in the market every month regardless of how bleak the headlines are, and this strategy allows you to buy more shares at a lower unit price when the markets are down, and this "averages out" your share prices for units you purchased when the market was a high. To read more, click here.
2. How has Grow performed in February despite this?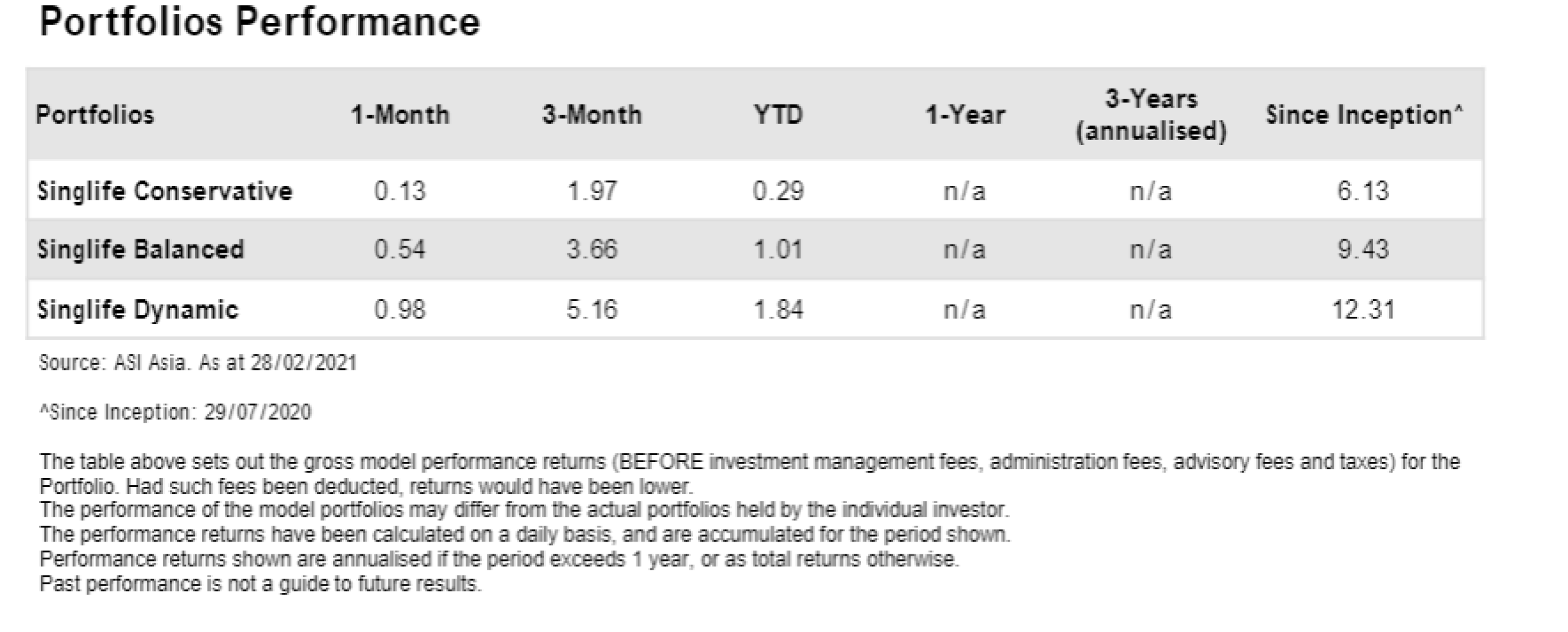 You can see that despite the dip, those who held their position for the entire month experienced positive growth regardless of their portfolio risk profile (i.e. conservative, balanced or dynamic). Of course, this is in no way indicative of future return, which is why strategies like long-term Dollar-Cost Averaging help to "average out" your stock entry price regardless of if you enter the market at a high or a low.
If you'd like to click on your Grow February Fact Sheet, click here.
---
Note that the performance for your Grow portfolio is not guaranteed and the value of the units and the income accrued to the units (if any) may fall or rise.
Grow is protected under the Policy Owners' Protection Scheme which is administered by the Singapore Deposit Insurance Corporation (SDIC). Coverage for your policy is automatic and no further action is required from you. For more information on the types of benefits that are covered under the scheme as well as the limits of coverage, where applicable, please contact us or visit the LIA or SDIC web-sites (www.lia.org.sg or www.sdic.org.sg). This advertisement has not been reviewed by the Monetary Authority of Singapore.