Written in conjunction with MoneySmart.
My parents made sure to buy insurance for me and get me insured, before I even learnt how to speak.
Insurance has always been a norm in my life, so imagine my surprise when some of my friends mentioned they were scolded by their parents for "wasting money" on insurance.
"Wasting money"?
We are living longer amid growing rates of critical illnesses and higher survival rates due to advances in medicine, and that's where critical illness coverage comes in.
Quick statistics on critical illnesses:
Cancer is one of the leading causes of death in Singapore (source)
1 in 10 stroke patients in Singapore are under the age of 50 (source)
We can also glean key information from the 2017 Life Insurance Association Singapore Protection Gap Study:
Critical illness recovery period assumed to be 5 years

Average critical illness coverage required for a working adult is about 3.9x of annual income

Singaporeans have only met 20% of their critical illness protection needs with a significant 80% gap unaccounted for
Statistics show that Singaporeans are not adequately covered.
Why buy a CI plan in your 20s, when you're still healthy?
Critical illness can happen to anybody at any time. Moreover, when one is young and physically healthy, premiums are cheaper as they are classified as low-risk for critical illnesses such as cancer and heart disease. As one grows older, the risk and hence premiums increase. 
Waiting till one is older to purchase critical illness insurance may be more expensive, especially as there is also higher possibility of developing conditions such as high blood pressure, high cholesterol and diabetes which can lead to higher premiums, exclusions, or even declined insurance applications.

*Based on a Female, Non-Smoker, buying Singlife's Critical Illness Plan with policy term up to age 65 and sum assured of S$200k, before any premium discount.
Here's a look at Why A Critical Illness Plan is Much Cheaper When You're Below 30:
When you start working
In the event of critical illness (touch wood), most people stop working and experience a loss of income. Regardless of whether or not you have dependents (young children, elderly parents), you need to first ensure you have money to tahan through this difficult period of time. Especially since the medical cost of critical illness is already a hefty burden. The payout from the CI plan will help, a lot.
What kind of insurance plan covers critical illness?
There are many types of insurance plans to choose from to get yourself covered against critical illness. Many of us may have an existing life insurance plan and might decide to add a critical illness (henceforth CI) rider to the base plan, rather than buying a standalone CI plan. Some may wonder what the uses of a CI plan is if one already has a hospitalisation plan.
Here are some key differences between 1) a standalone CI plan, 2) a CI rider, 3) a hospitalisation plan: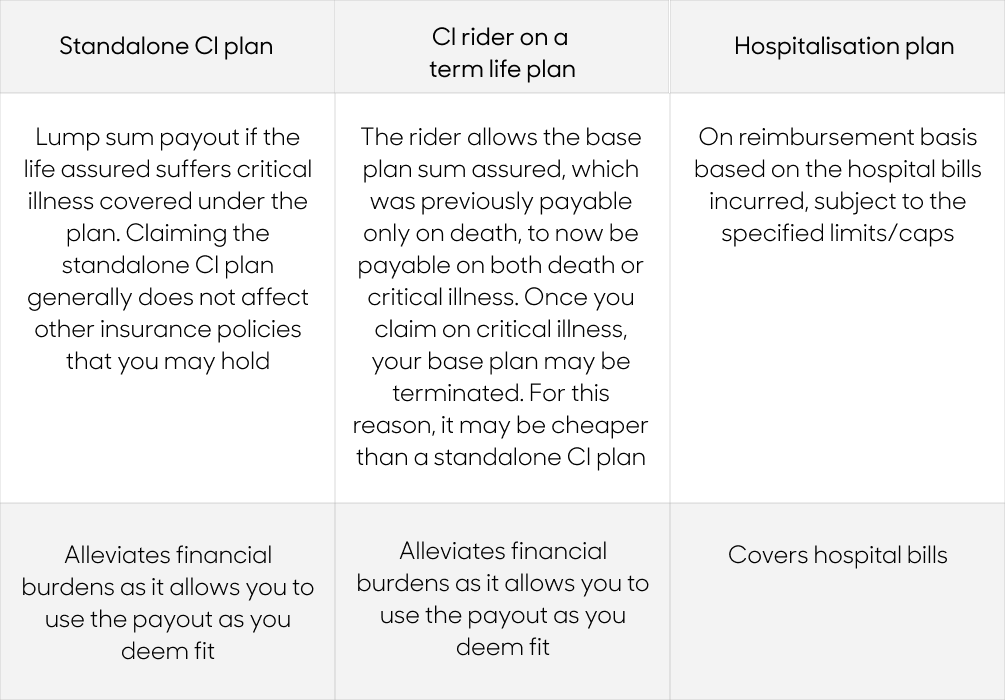 While hospitalisation plan takes care of hospitalisation and perhaps outpatient treatment, there are many costs that hospitalisation plan will not be able to cover, such as regular bills and daily expenses, employing a maid, mobility aids and so on. CI plan provides a sum of money that can be used to take care of all other financial needs while one is recovering and cannot work.
Spotlight on early critical illness coverage
If you already own a critical illness policy for many years now, it is likely to be a late-stage critical illness plan.  
However, for those who wish to take the extra precaution, there is an option to get yourself covered for early-stage critical illness too. The question that one might have is: If one already has a late-stage critical illness base plan, is it overly kiasi to get an early critical illness (ECI) rider? 
With only a late-stage CI plan, a claim can only be made when the critical illness is late-stage. A CI plan with an ECI rider provides coverage for all stages of critical illnesses, claim can be made before the conditions get worse.
 Oh, and did I mention? An ECI rider is also relatively affordable when young.
Here's a quick comparison: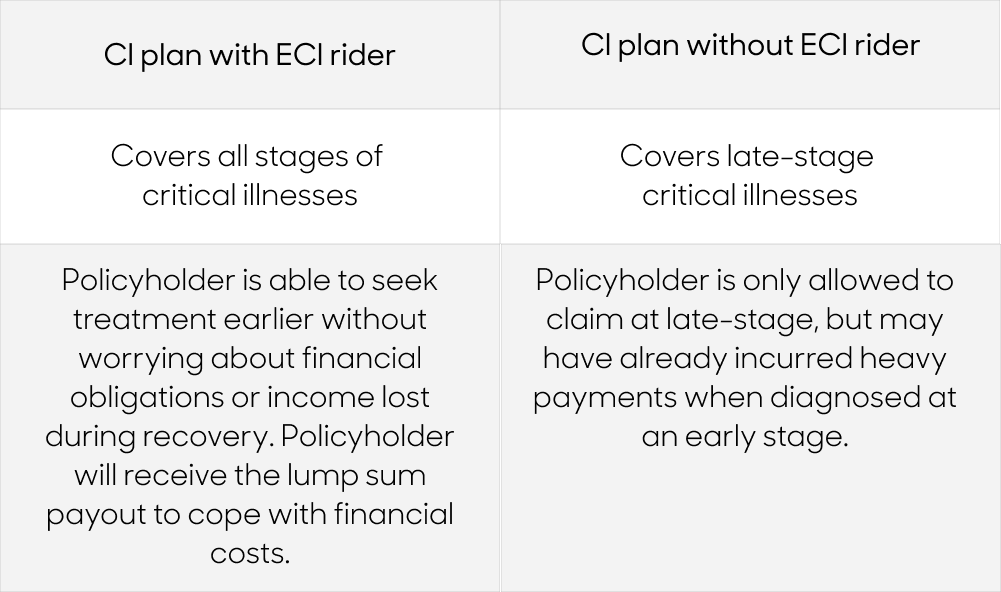 It's counterintuitive to hold off treatment when diagnosed early; to just wait for the condition to worsen before filing a claim! Moreover, with today's medical advancements, there is good evidence that treatment of critical illnesses at early stages can improve the chances of recovery.
What about multi-claim CI plan? What is that?
Maybe it's best to first explain why multi-claim CI plans exist.
Firstly, the survival rates of critical illnesses such as cancer are going up.
According to a report in The Straits Times, the proportion of men who survive a cancer diagnosis by at least 5 years has gone up from 13.2% in 1973-1977, to 48.5% in 2008-2012. For the same period, women survivors more than doubled from 28% to 57.1%.
And with Singaporeans living longer but spending more time in ill health, there is a chance for someone who has suffered and recovered from a critical illness to develop another later in life — that's where the usefulness of a multi-claim CI plan with an early critical illness rider comes in. 
With a multi-claim CI plan, claims can be made multiple times. For instance, with Singlife's Multi-claim Critical Illness Plan, for the first claim, the sum assured will be paid out and reduced to zero. After the "reset period" (consecutive 12 claim-free months) from the diagnosis date of the previous claim, the sum assured will revert to 100% of the original amount and claims can be made again.
Singlife's standalone critical illness plans
Singlife has 2 base critical illness plans, and each plan can be further enhanced with a rider for early critical illness (ECI) protection.
Singlife CI policyholders can also benefit from the next day critical illness claim benefit, with payouts made within 24 hours of claim submissions.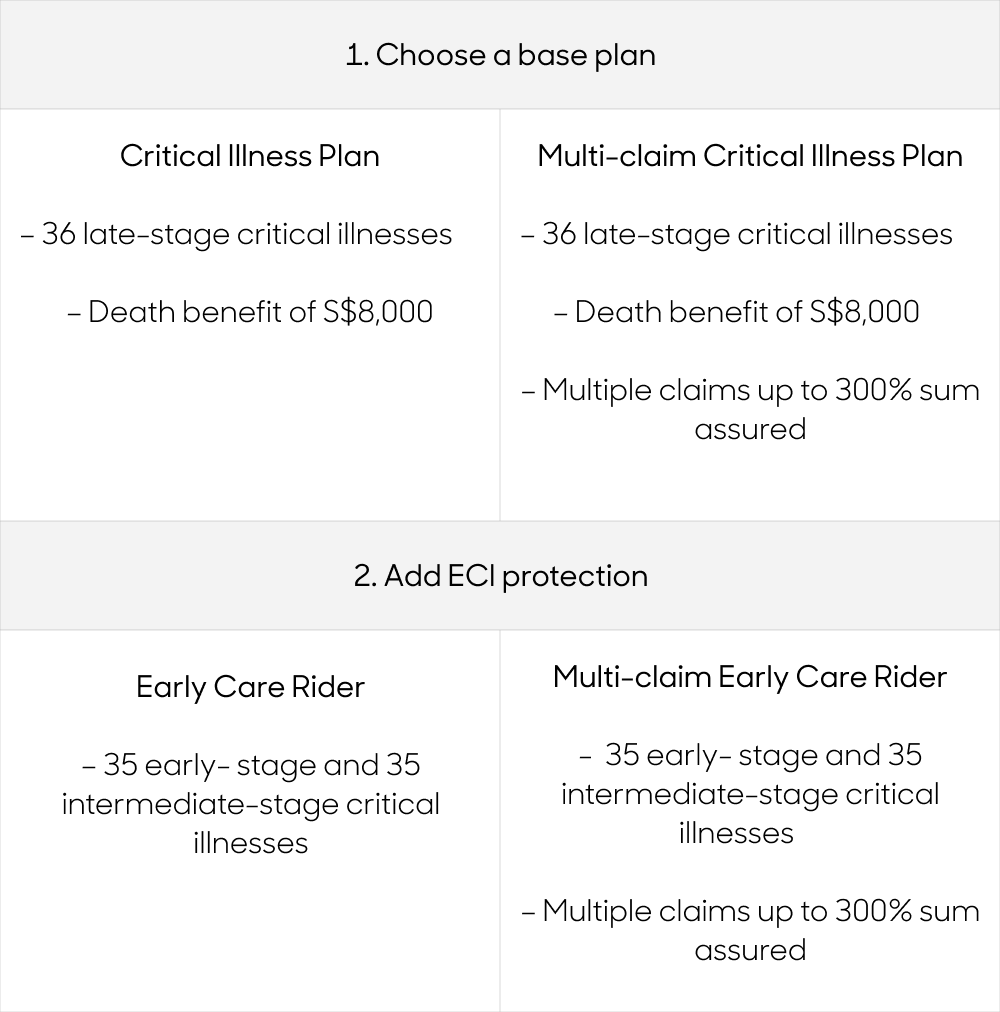 Singlife's Critical Illness Plan offers standard coverage and once there's a payout, the policy will cease. Singlife's Multi-claim Critical Illness Plan allows for multiple claims up to a total of 300% of the sum assured during the policy period. For each claim, the sum assured will be paid out and reduced to zero. After the "reset period" (consecutive 12 claim-free months) from the diagnosis date of the previous claim, the sum assured will revert to 100% of the original amount and claims can be made again.
Find out more about Singlife's critical illness plans here. If you would like to get a quote, click here.
---
Final Window to Apply for Singlife Protect Products
From 20 September 2021, our Singlife Protect products sold on our website will no longer be offered to customers. If you are an existing policyholder of our Term Life, Critical Illness, Cancer Plan, My First Life Insurance products, do not worry, your policies will not be affected in any way. Note that this change does not affect Singlife Account or Singlife Grow policyholders either.
For more information, click here.
The information is meant for your general knowledge and does not regard any specific investment objectives, financial situations or particular needs any person might have and should not be relied upon as the provision of financial advice. Protected up to specified limits by SDIC. This advertisement has not been reviewed by the Monetary Authority of Singapore. Information is correct as 4 June 2020.