Every investor knows that fees can eat into your investment returns. Fees include annual management fees charged by the fund house that are already factored into the fund's Net Asset Value (NAV). There are also other fees such as platform fees and sales charges that you may need to pay.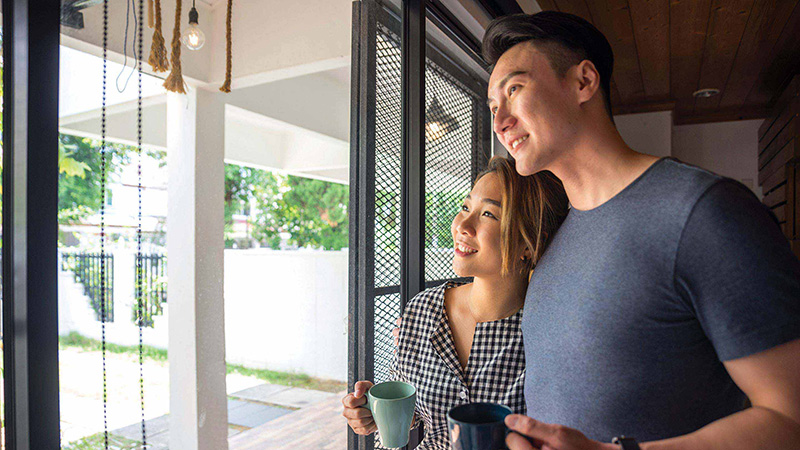 Let's assume for an investor who has $1,000,000 in his investment account and has to pay a 1% fee, that could mean $10,000 every year, and a 1% fee may not be that much if your investment sum is small. But it may not be so for Millennials because of one important factor: Time.
Assuming a young investor who invest $1,000 every month and has 30 years to save for his retirement, that could mean $151,432 lost just on fees!1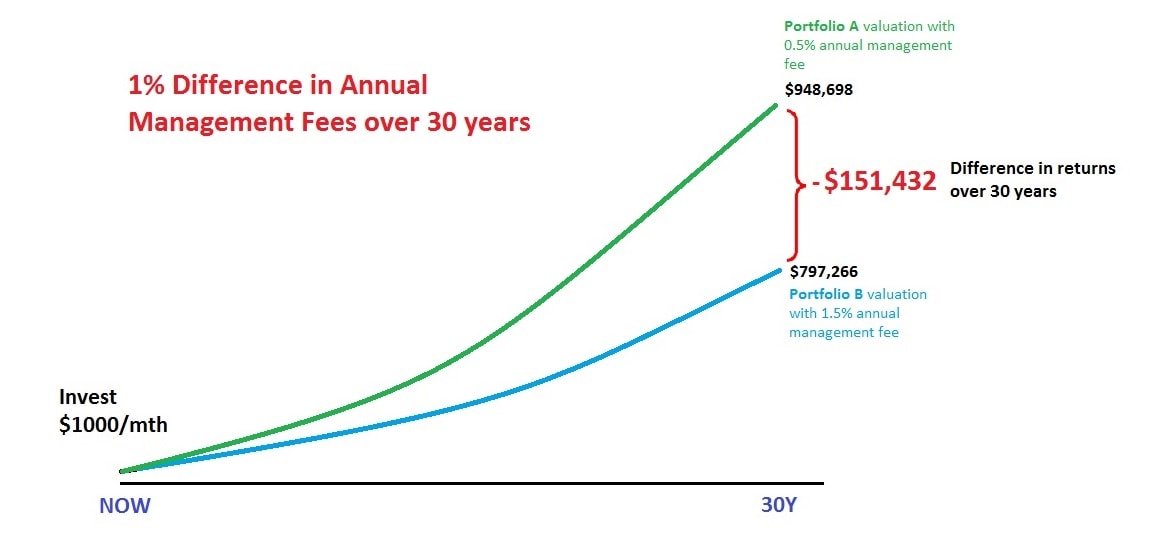 Once you, as a well-informed investor, has decided to embark on a low-cost investing journey, one of the next best move to get a higher investment return is to invest in a low-cost fund. By low-cost, we mean that the Annual Management Fee or Total Expense Ratio that the fund charges is kept to the lowest in their respective category. Furthermore, why pay sky-high fees when one can choose to invest on a platform that offers no sales charge and zero fees?
So what does this mean for you as an investor? Annual management fees, like all other fees, may cut into the gains of investors' returns and a 1% fee over a long term could mean a lot. While the annual management fee of unit trusts are about 1.5% on average, there are still funds that charge less than 0.5% p.a. besides the usual Money Market Funds (mainly used as a Cash management facility), and Index Funds, which typically has an annual management fee of 0.475%.
Here are some funds on dollarDEX that are charging less than 0.5% p.a. annual fees.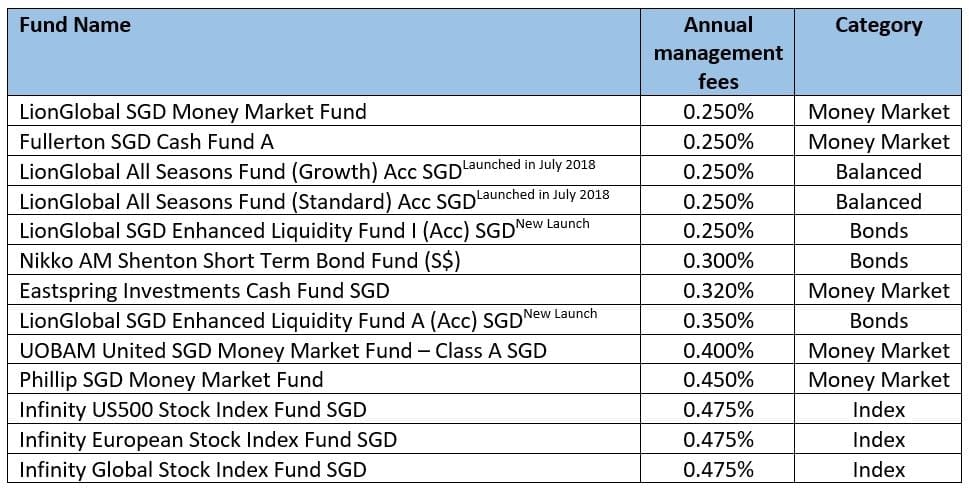 Standing out from this list are the LionGlobal All Seasons Fund and LionGlobal SGD Enhanced Liquidity Fund A that were launched last year. With a management fee of 0.25% and 0.35% per annum, it has one of the lowest fees in the Balanced and Bonds fund category, on par with many Money Market funds and beating more than 900 other funds available on dollarDEX, including most Bond funds.
How did Lion Global Investors maintain the low fee?
LionGIobal All Seasons Fund adopts a fund-of-funds strategy where it holds only seven funds split across Actives & Passives, Fixed Income & Equities as well as Geographical Regions. Unlike most fund-of-funds, which has double-layered fees, the feeder funds for LionGIobal All Seasons Fund, such as LionGlobal Asia Pacific Fund does not charge LionGIobal All Seasons Fund any management fees, thus they are able to offer such a low fee structure to investors.
Click below to find out more about the LGI All Seasons funds:
LionGlobal All Seasons Fund (Growth) Acc SGD
LionGlobal All Seasons Fund (Standard) Acc SGD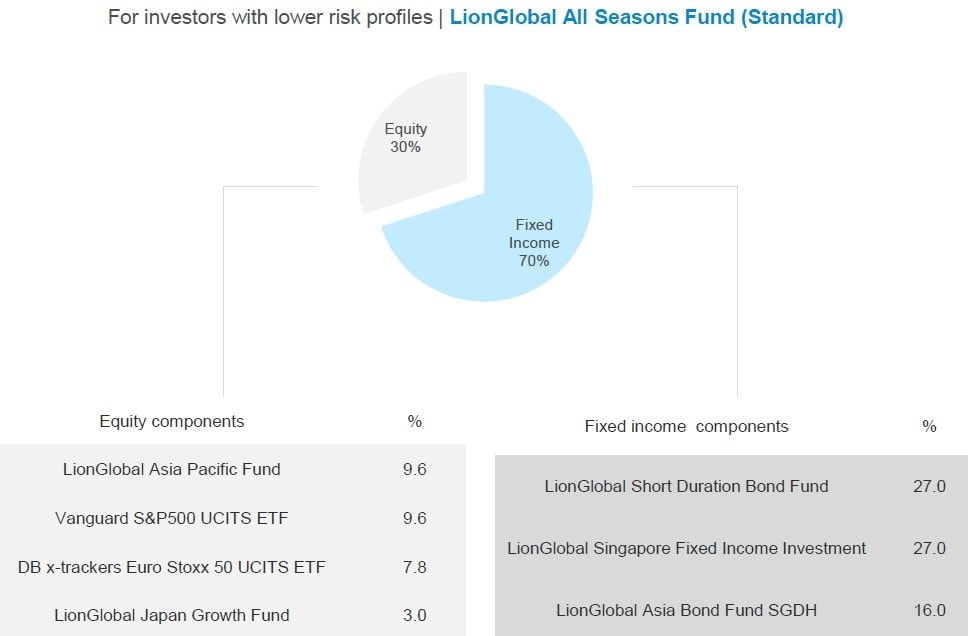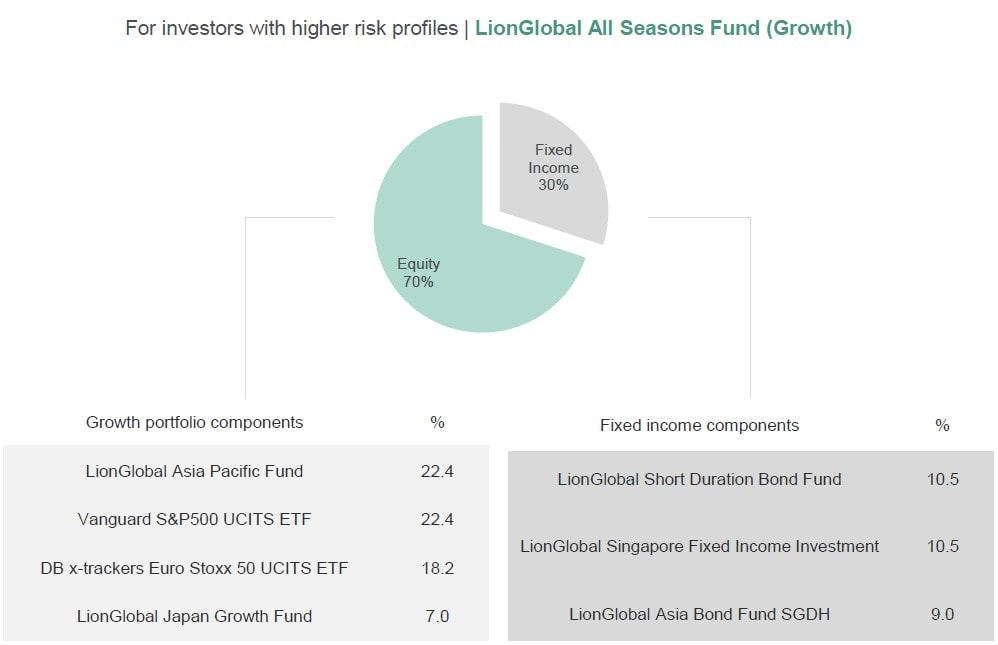 While the LGI SGD Enhanced Liquidity Fund I (Acc) SGD has a management fee of 0.25% but it is of institutional share class and has a minimum investment amount of S$1,000,000 that puts many retail investors out of reach. Regular investors like us have the retail share class LGI SGD Enhanced Liquidity Fund A (Acc) SGD that is also attractively priced at 0.35% per annum in management fee.
The LGI SGD Enhanced Liquidity fund is unique as it is a bond fund that works similar to a Cash Management Fund but has a better yield at 2.4% Yield-to-Maturity2. It uses an Amortized Cost accounting method, instead of the usual Mark-to-Market valuation, hence it is able to ensure that the NAV price per unit does not fluctuate with market volatility but instead, priced at its intrinsic value since each underlying security purchased by the fund is held to maturity.3
Besides the LionGlobal funds mentioned above, the Nikko AM Shenton Short Term Bond Fund is another low cost option in the list that is favourable in this current rising rate environment.
In summary, it is important to consider the annual management fees in your choice of funds and truly maximise your investment returns by not letting fees eat into them. While Bond funds typically have lower fees and corresponding lower returns compared to Balanced funds, LionGlobal's new offerings aim to defy the norm and disrupt this space with their new offerings. Find out more about these funds by using our intuitive Fund Finder today!
Sources