It doesn't matter whether you're 20, 40 or 60; you will never be able to stop time – and old age – from creeping up on you.
 
And if there's anything scarier than witnessing your skin sag or your hair turning whiter and thinner, it is the prospect of growing old without sufficient money to allow you to take care of your needs.
 
According to Aviva's 2014 Consumer Attitudes survey, 56 per cent of Singaporeans think they will need $200 to $6,000 per month in retirement. However, 48 per cent admitted foreseeing themselves having only less than $2,000 based on their current financial plan.
 
If you are living in Singapore and you haven't given a thought about your plan for retirement, here are 5 crucial reasons why you need to do so now. 
Fact #1: You are living longer
According to the latest figures from the Department of Statistics Singapore, men are now expected to live until they are 80, with women expected to live until they are 84. This ranks Singaporeans among the top 5 in the world for life expectancy, according to the World Health Statistics 2014 report published by the World Health Organisation (WHO).
 
Even though living longer means that you'll be able to enjoy life a little more, it also means that you would need more money to sustain your lifestyle, medical bills and other necessities.
Fact #2: Your money will be worth less in the future
Remember this word: Inflation.
 
A plate of chicken rice that costs $3 now could cost $6.11 in 30 years, going by an inflation rate of 2.4 per cent for 2013 – 2014, according to the Department of Statistics Singapore. With that said, inflation rates are never static with unexpected changes each year. For example, the inflation rate in 2011 – 2012 was 5.2 per cent which means that the $3 plate of chicken rice was forecasted to be $13.70 in 30 years. In the same vein, this means that your current savings will inevitably be worth less in the future.
 
Over time, your buying and spending power will decrease due to inflation unless you plan properly. Thus, to avoid this and ensure that you have enough by the time you retire, you need to start considering the true value of your savings in future terms.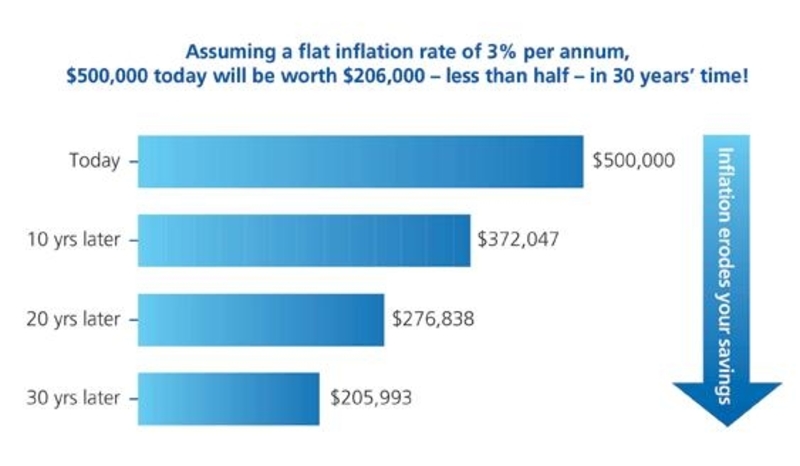 Fact # 3: Your health matters
Another important factor you have to consider is your healthcare needs.
 
Growing older means more medical-related costs, whether it is to maintain your good health or because of unforeseen illnesses. A hospitalisation and surgical (H&S) plan is a must for everyone. These are MediShield or Medisave- approved Integrated Shield Plans, which are offered by private insurers, to cover your hospitalisation and surgical expenses, up to a certain limits1. You can use your Medisave savings to pay the premiums for MediShield and your Integrated Shield Plan. For costs associated with long-term care, you can also use your Medisave to pay for your Eldershield and Eldershield supplements, up to a certain limits1.
By ensuring you are adequately covered for both H&S expenses and long term care, you won't have to dip into your retirement savings to pay for your medical costs.  
Fact #4: You need to protect your loved ones too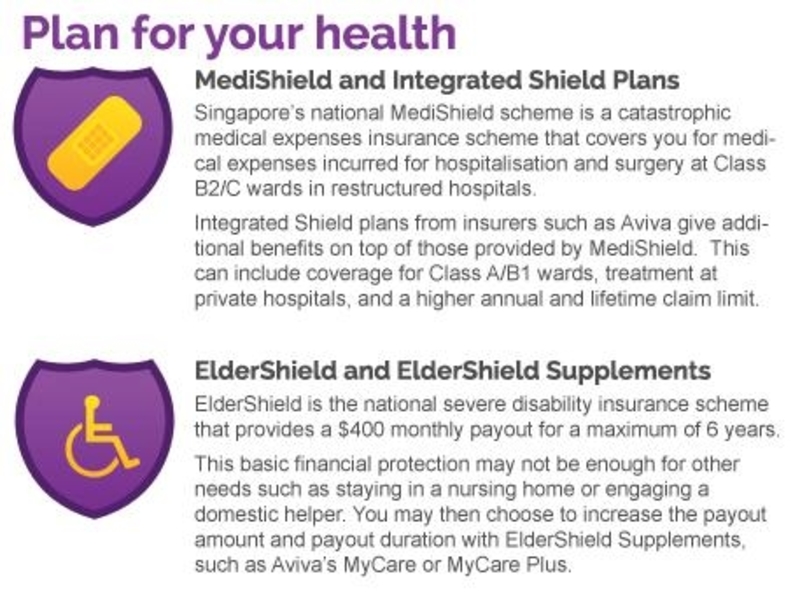 Like most people, you would have the welfare of your loved ones constantly on your mind – especially if you are the breadwinner of the family.
 
Getting a life insurance policy can help to ensure financial continuity and allow your spouse to have sufficient funds for his/her retirement in the unfortunate event of your premature demise. 
Fact #5: You are already on your way to retirement
Whether you like it or not, each day that you are working is a day closer to your retirement, no matter how far away it may seem now. When you're retired, you will no longer have the same earning capacity that you are used to, and you will have to rely on whatever you have saved over time.

An important thing to note is that money needs time to grow so the later you start saving, the more money you will need to set aside each month to achieve your desired retirement income.
 
So although you may get sidetracked by pressing issues such as buying a house or funding your children's education, make sure that you are also putting away money for your future, before it's too late.


Source: AsiaOne © Singapore Press Holdings Limited. Reproduced with permission
This advertising feature was sponsored by Aviva Ltd and published on AsiaOne on Sep 18, 2014
Footnotes: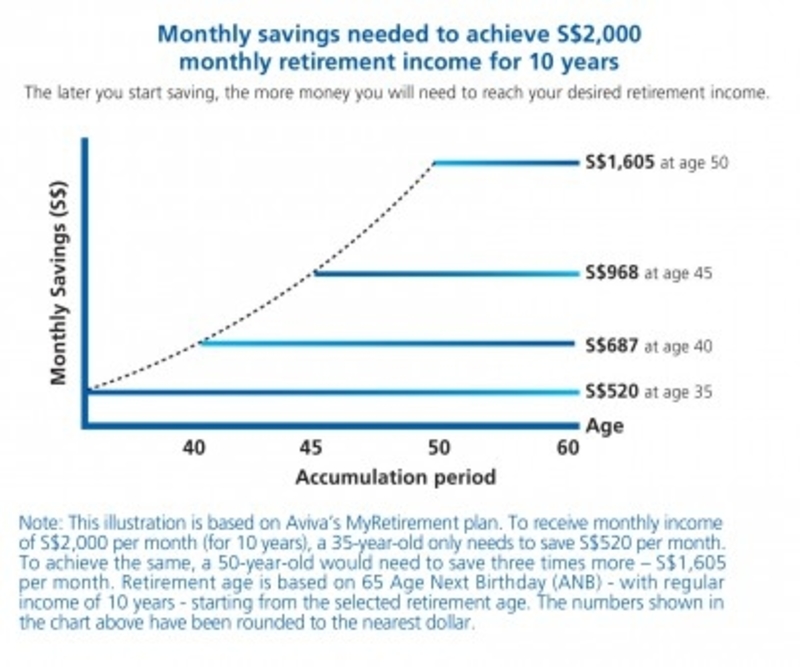 1 Withdrawal limits apply. Visit here to find out more.