If you put your money in a savings account, you'll only earn the amount added by interest.  With investing, you can put your money in a variety of assets, each with the potential to increase in value at a level higher than the current interest rate. But before you dump your life savings into investments, here are three tips for you.   
1. Diversify 
Don't put all your eggs in one basket. Spread your money across different assets, such as stocks and shares, bonds, and property. If some aren't doing too well, there's a chance that others may balance this out by performing better than expected. 
2. Risk vs reward 
All investments come with risk. While low-risk investments are likely to produce low returns, there is also less risk of losing your money. On the other hand, higher risk investments have more risk of failure but could also give you a good return on your money. A question you can ask yourself to help determine which end of the risk spectrum you want to put your money in is: "Can you afford to lose this amount of money?" 
3. Dollar cost averaging
Everyone would like to buy low and sell high. This involves timing the market. But in practice, it may be extremely difficult to time the market consistently over the long run. Rather than taking a gamble, you can invest a fixed sum of money at regular intervals, regardless of whether the market is rising or falling. That is, you buy more units when the price is low, and lesser units when the price is high. This technique is known as dollar cost averaging, and helps to:
Create wealth gradually by investing small and affordable amounts regularly
Ride out market volatility
Take the guesswork out of investing

Here's an example of how dollar cost averaging works: 
Over a 5-year period, the cost per unit fluctuates between $0.50 and $2.00.  Therefore the average cost per unit = $1.30.
Assuming you invest $2,400/year consistently, you would have invested a total of $12,000 after 5 years.  This will buy a total of 11,600 units, so the average cost per unit that you actually paid = $0.97.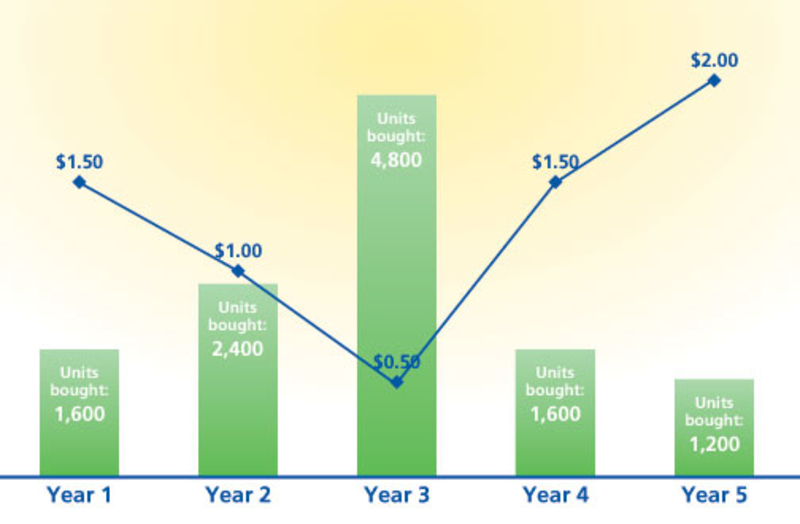 But as with any investment you make, there are always risks involved. Understanding how these 3 basic tips work will go a long way in helping you to stretch your next investment dollar.