Ms Aishah Bte Rah-mat had a fulfilling career as the principal of a pre-school centre. She had to give it up eight years ago to care for her late mother, whose dementia had affected her speech and mobility at the time of diagnosis.
For Ms Aishah, who is single and in her 40s now, the tough part was dealing with the isolation and burden of being a full-time caregiver for seven years.
"After becoming my mum's full-time caregiver, I was cooped up at home. For weeks, I was so depressed that I would go to bed and wake up crying," she said.
About 28,000 elderly people aged 65 years and above are estimated to have dementia in Singapore.
By 2050, the figure is expected to hit 187,000, said Dr Noorhazlina Binte Ali, consultant at the Department of Geriatric Medicine at Tan Tock Seng Hospital (TTSH). 
Recognising the signs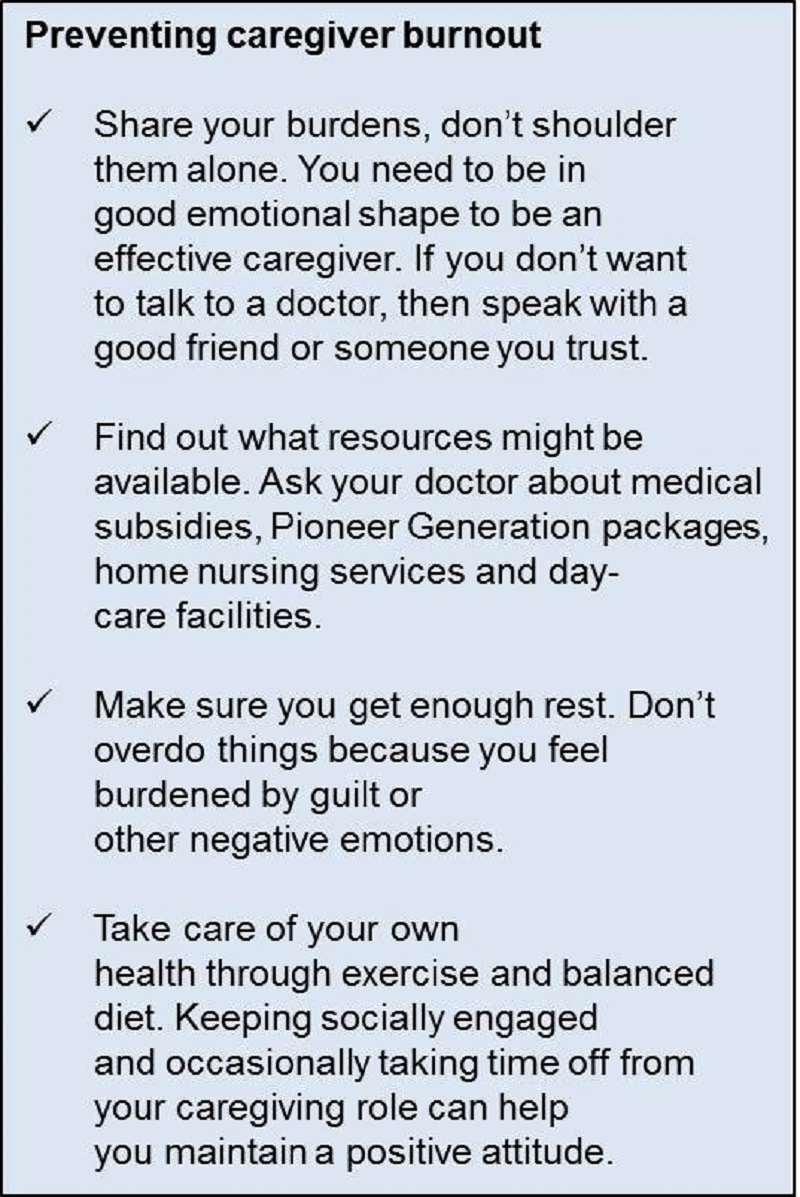 Dr Adrian Wang, consultant psychiatrist at Gleneagles Medical Centre, said: "Caregiver strain is naturally more common in those looking after dementia patientswith more severe symptoms, such as those with aggressive behaviour or those who require greater help with daily activities like feeding and bathing."
Dr Wang said the caregivers who suffer the most are the ones juggling multiple commitments such as work, financial problems and family issues, in addition to their caregiver duties. Early signs of caregiver burnout include feelings of helplessness, moodiness, a sense of being overwhelmed easily, tearfulness and anxiety.
Dr Noorhazlina said caring for caregivers can make a difference to the quality of care and life of the dementia patients who are dependent on them.
"One commonly reported ill effect of caregiving is depression, which is highly treatable. If all resources have been given and caregivers still feel strained, we sometimes refer them to our social work or psychology colleagues to assist them," she said. 
Help for caregivers
At the Cognition and Memory Disorders Service Memory Clinic at TTSH, caregivers are routinely assessed for signs of burnout using a questionnaire that measures personal strain, role strain and performance worries.
The hospital also recently launched Ageing With Grace: The Complete Caregiver's Guide, a guidebook that covers tips on how to care for the elderly at different stages of the ageing process. Over at the Alzheimer's Disease Association, Singapore, practical and emotional help is offered to caregivers through support groups, workshops, and counselling and helpline services.
It also offers help on day-to-day caring and access to respite care services. Ms Aishah attended a caregivers support group meeting and a caregivers workshop organised by the Alzheimer's Disease  Association. The experience changed her outlook. Once she had learnt to cope with her mother's tantrums, caring for her in the last few years of her life was more enjoyable.
"The workshop was an eye-opener for me. It made me see that my mother's tantrums were blessings because she could still do something," said Ms Aishah.
 
This article was first published in the TODAY paper on Wednesday, 15 October 2014.
With disability insurance, payouts could help with expenses such as a domestic helper, medical bills, nursing home fees and mobility aids. To find out more, leave down your details in the form below.