What is the Singlife Account?
The Singlife Account is an insurance savings plan where you can earn interest while you still have the flexibility to make top-ups and withdrawals, with no lock-in and fees. The Singlife Account provides life insurance coverage to policyholders in the event of death and terminal illness.
Enjoy up to 1.0% p.a.* on your first S$10,000
Save and earn with return calculated daily and credited monthly. See it all on the Singlife App.
*Note that 1.0% crediting rate is not guaranteed. The Singlife Account is an insurance savings plan. It is neither a bank savings account nor a fixed deposit. Each person is only entitled to one Singlife Account policy.
Not just another card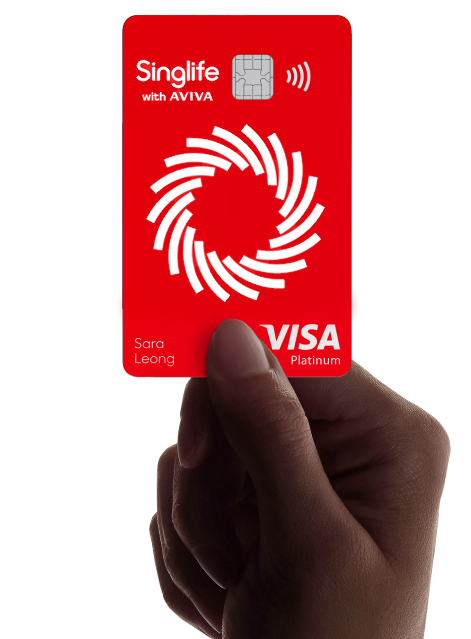 Earn bonus return of 0.5% p.a. on top of your 1.0% p.a. base return on the first S$10,000 in your Singlife Account as you spend on the Singlife card from 1 July 2021 till 31 December 2022.
Learn more about the bonus return
What others say
This app is jam packed with a lot of useful features. Its interface is well-designed and it makes tracking your finances such a breeze. The one-step touch ID login to check your account balance and the daily updates on earned interest has been especially useful! Would definitely recommend!

Via Apple Store: 天啊12345
I've been parking my savings in Singlife Account every month - I think the journeys are really straightforward and clean. I haven't experienced any hiccups with withdrawals as well.

Via Apple Store: SavvySaver_2020
It is a good way to park spare cash as it yields more than the conventional high-interest hurdle bank accounts and keeps the cash highly liquid. Deposit is almost instant and withdrawal process is pretty fast as well. Signup process is also quick so this is my favourite as compared against the other insurance savings accounts.

Via Seedly - Singlife Account Page: Stranger Tengs
Kickstart your Singlife Account policy with just S$500!
A few minutes is all it takes. Let us show you how.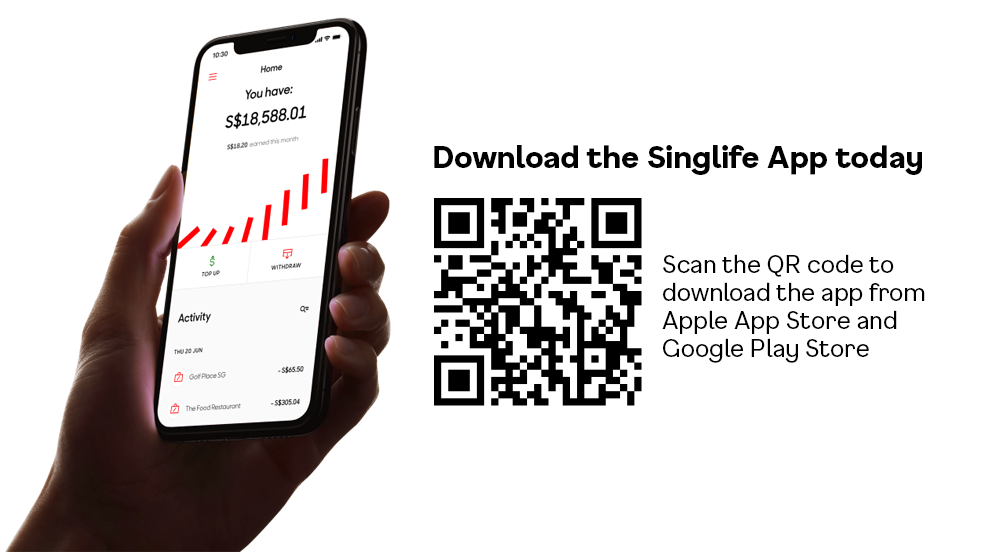 A financial institution you can trust
Licensed by MAS
Singapore Life Ltd. (Singlife with Aviva) is a direct life insurer
licensed by the Monetary Authority of Singapore (MAS).
Protected by SDIC
All policies, including the Singlife Account are
covered under the Policy Owners' Protection (PPF) Scheme
administered by Singapore Deposit Insurance Corporation
(SDIC). The PPF Scheme protects policy owners in the event
a life insurer which is a PPF Scheme member fails.
Got any questions?
Singlife Account
Singlife Visa Debit Card
Singlife Account benefits
Signing up
Add or withdraw funds
The information on this page is meant for your general knowledge and does not regard any specific investment objectives, financial situations or particular needs any person might have. Nothing on this page constitutes the provision of financial advice.
Before making a commitment to purchase this product, you should consider whether the product is suitable for you by referring to the product summary, terms and conditions and FAQs. Alternatively, you may wish to seek advice from a financial adviser before making a commitment to purchase this product.
We hereby disclose to you that:
(a) Your relevant money as defined under Payment Services Act ("PSA") from Singlife Account will be held by us on behalf of you in a trust account opened with a safeguarding institution;
(b) Your relevant money from Singlife Account will be deposited in a trust account together with, and commingled with, the relevant money received by us from our other Singlife Account customers;
(c) There are no foreseeable risks of such commingling and you are able to withdraw your account value anytime via FAST;
(d) The relevant money in the trust account with the safeguarding institution is insured by SDIC. Pursuant to section 23(7)(b) of the PSA, the customers' relevant money deposited in a trust account are not liable to be taken in execution under an order or any court process, such as in insolvency proceedings. In the event of the insolvency of the safeguarding institution, the Monetary Authority of Singapore may make a regulation under section 103 of the PSA on the manner in which the customers' relevant money must be treated and dealt with; and
(e) The safeguarding institution is not liable to compensate you for your claims against Singlife with Aviva.
This advertisement has not been reviewed by the Monetary Authority of Singapore. Information is accurate as of January 2022. 
This policy is protected under the Policy Owners' Protection Scheme which is administered by the Singapore Deposit Insurance Corporation (SDIC). Coverage for your policy is automatic and no further action is required from you. For more information on the types of benefits that are covered under the scheme as well as the limits of coverage, where applicable, please contact us or visit the Life Insurance Association or SDIC websites (www.lia.org.sg or www.sdic.org.sg).