Understanding equities and bonds
Equity—or stocks and shares, are stakes of ownership in a company that are traded on the stock exchange. In comparison, bonds'—or fixed income securities, pay a fixed amount of interest (in coupon payments) to investors for lending them money over a stated period of time.
Equities and bonds are different in many ways. First, both asset classes generally reflect different risk and return profiles. Equities are traded on the stock market, which is subject to volatility. Whilst equities may provide higher potential returns, investors may have to stomach a higher price fluctuation in the short term. On the flipside, bonds are generally less risky. Although bonds might not bring you the highest returns, it is a more stable way to invest your money.
Strike a balance (with a multi-asset portfolio!)
Seasoned investors typically incorporate a mix of bonds and equities into their portfolio, based on the amount of risk they wish to take and returns they wish to see.
To help illustrate differences between investing in a single asset class and adopting a mixed portfolio, please meet Ben and Melissa, two individuals who want to begin investing.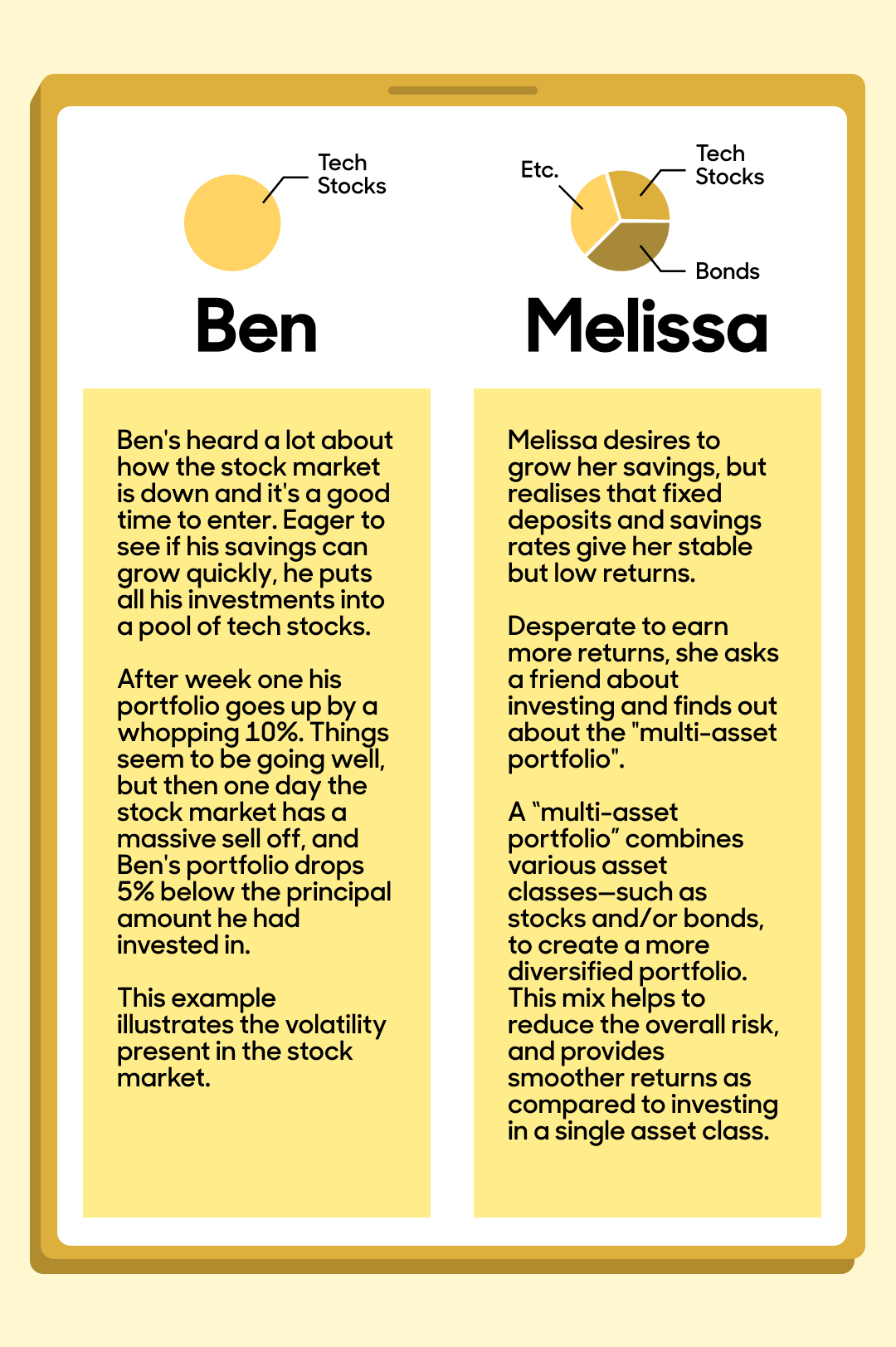 Take the hassle out of investing with Grow by Singlife
Grow is an investment-linked insurance plan (ILP), with 3 discretionary managed model portfolios for customers to choose from. Each portfolio comprises varying percentages of equities and fixed income—allowing you to pick the portfolio that best suits your risk appetite.
What's more, Grow makes investing as easy as ABC. All you need to do is pick your portfolio of choice, place an initial premium of at least S$1,000 in Grow, and let the professionals at Aberdeen Standard Investments manage your portfolios for you. Learn more here.
---
Note that the performance for your Grow portfolio is not guaranteed and the value of the units and the income accrued to the units (if any) may fall or rise.
Grow is protected under the Policy Owners' Protection Scheme which is administered by the Singapore Deposit Insurance Corporation (SDIC). Coverage for your policy is automatic and no further action is required from you. For more information on the types of benefits that are covered under the scheme as well as the limits of coverage, where applicable, please contact us or visit the LIA or SDIC web-sites (www.lia.org.sg or www.sdic.org.sg). This advertisement has not been reviewed by the Monetary Authority of Singapore.