Ask zoomers and millennials about their first career choice and you'll find that "entrepreneur" is a popular option. This is unlike earlier generations who preferred more traditional professions or who made the switch to entrepreneurship only after gaining corporate experience.
In 2020, 63,480 new enterprises were formed in Singapore, up from 61,573 the year before, making it the highest number since 20161. What's the big attraction of entrepreneurship?
You get to be the master of your own fate.
There's excitement in tackling unexplored opportunities in today's fast-changing global economy. 
You can be part of something meaningful and be a game changer.
Enjoy exponential financial growth.
Already got a full-time job, but looking for a side hustle? Starting your own business could be an option for you too, but first, check that your employer's policies allow it. Declare your intentions to your manager or human resources team to avoid potential conflict of interest – that's where you enter a nature of business that competes with what your full-time employer does.
Entrepreneurship isn't all sunshine and rainbows. In your quest to become the next Ian Ang (Secretlab co-founder) or Tan Hooi Ling (Grab-co-founder), you may have to wear multiple hats, work non-stop, and say goodbye to beauty zzzs and hanging with your squad. You may even neglect your personal finances – which can be detrimental to both you and your business.

The importance of looking after your personal finances
Why should your personal finances be in order when you could be looking at making S$1 million in 12 months?
The state of your personal finances impacts your ability to borrow money to grow your business.
You need to protect your assets like your income, home and car should your business face difficulties.
Clients and partners needn't worry about bad personal debts impacting their business dealings with you.
You'll feel more in control and have greater peace of mind.
Simple ways to manage your business and personal finances
With so much to do and limited budget as an entrepreneur, taking your business to the top and looking after your personal finances at the same time can seem impossible. However, there are easy ways to enjoy success as an entrepreneur and peace of mind at the personal level.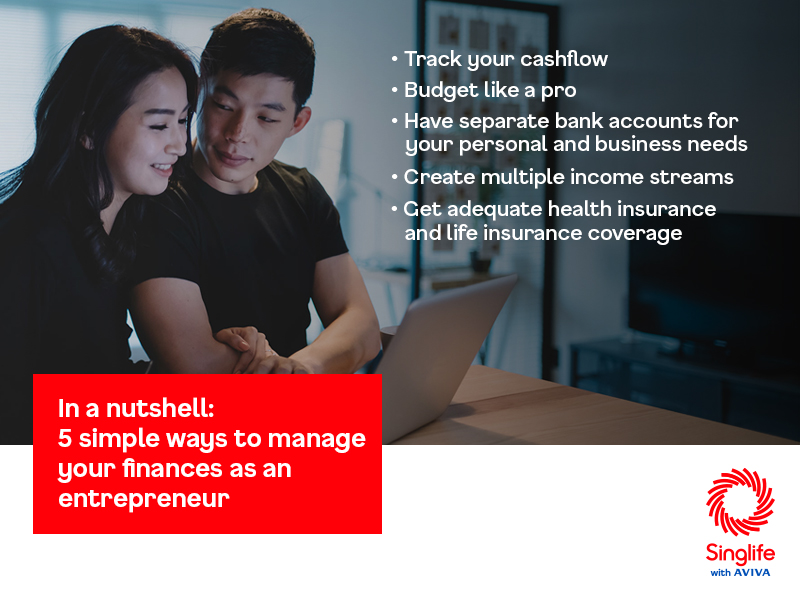 Ways to manage your business finances
Track your cashflow. Diligently tracking the money that's entering and leaving your business is crucial for effective financial management. It doesn't have to be difficult or involve sophisticated software or an additional headcount. Use available tools like Google Sheets or Excel to log all transactions by category. You'll have a single place to turn to whenever you need those important numbers and dates.
Budget like a pro. Try lean budgeting, a fund allocation approach where you prioritise proven value creating streams (e.g. developing new products and systems for customers) over projects with short-term results (e.g. a three-month collaboration with a non-traditional partner).

Ways to manage your personal finances
Have separate bank accounts for your personal and business needs. Open a bank account just for your company and if your business is your only income source, pay yourself a monthly wage to use for your personal needs. Separating your personal and business money will save you from money-crunch situations in your business due to withdrawals for personal expenses like your kid's tuition fees.
Create multiple income streams. When you're just starting a business, it's hard to say when it'll turn a profit. Adding passive income sources to your business income stream reduces your financial risk without adding to your workload. You'll have financial security in the event one of these streams declines or has to be closed off. More incoming money also gives you greater financial agility to fast track your wealth building journey. Examples of passive income sources: rental property, investments and savings plans that give regular payouts.
Get adequate insurance coverage. Having medical and life insurance coverage is especially important when you and your family rely on the income you get from your business. A life insurance payout gives your loved ones a financial lifeline should you become terminally ill or permanently disabled, or pass away. The payout can help with things like daily expenses, school fees and home loans.

No time for complicated, time-consuming insurance? There's an easy solution. Singlife Simple Term is a yearly renewable term life insurance plan that you can get without having to undergo health checks. You can buy it online within minutes (perfect for busy entrepreneurs!) or through a representative (if you want personalised advice). Premiums start from just S$0.37* per day for S$500,000 coverage.
While there are no shortcuts to success, there are smart and simple ways to manage your finances as an entrepreneur. Get it right from the early stages, and you'll not only be able to focus better on your business but you'll also be more confident about taking necessary risks to grow it without worries about your personal affairs. You'll feel more in control and have more time for yourself and family again. Don't forget, you're an asset too!
Notes
1. Source: The Straits Times© Singapore Press Holdings Limited. Extracted with permission. "New enterprises bloom in Singapore despite Covid-19 gloom," 27 June 2021.
* Premium of S$0.37 is based on coverage for a non-smoking female, between 1 and 35 age next birthday (both ages inclusive) with annual premium of S$136 divided over 365 days, rounded down to the nearest cent.
Need affordable and hassle-free life insurance? To get the Singlife Simple Term plan, leave down your details in the form below or sign up online.