Boost your wealth
With Singlife Savvy Invest, the control is all yours! You can diversify your portfolio and boost your finances. Flexibility, bonuses, together with quality advice; flex your investment savvy and achieve the financial muscles you've aimed for.
Singlife Savvy Invest is a whole life, regular premium investment-linked plan combining investment opportunities and protection, along with these benefits and features:
Welcome!
Kick off your first policy year with a Welcome Bonus1 of up to 60% of your basic regular premium paid to boost your initial investment.

We've got you
Bought your first house? Expecting a new addition to the family? Congratulations on your new milestone in life! With our Life Stage Benefit2, you have the flexibility to withdraw up to 10% of account value, penalty-free.
Pass it on
Have the option to pass on your policy to a family member3 as a legacy gift. 
Get protected while you invest
Enjoy peace of mind with coverage against death4 and Terminal Illness5.
Moving on up
Have the flexibility to increase your investment any time via a single premium top-up6!
A little extra goes a long way
Staying with us? Our stepped-up Loyalty Bonuses7 are yours to enjoy after the end of your selected Minimum Investment Period8.
Variety is the spice of life
Be spoilt for choice with multiple funds to choose from and have full control to build the portfolio you want to meet your financial goals.
Helping you ride the wave
Sometimes, the unexpected happens. Plan for a more comprehensive protection with our 3 premium waiver riders9 that waive off the future premiums in unfortunate events.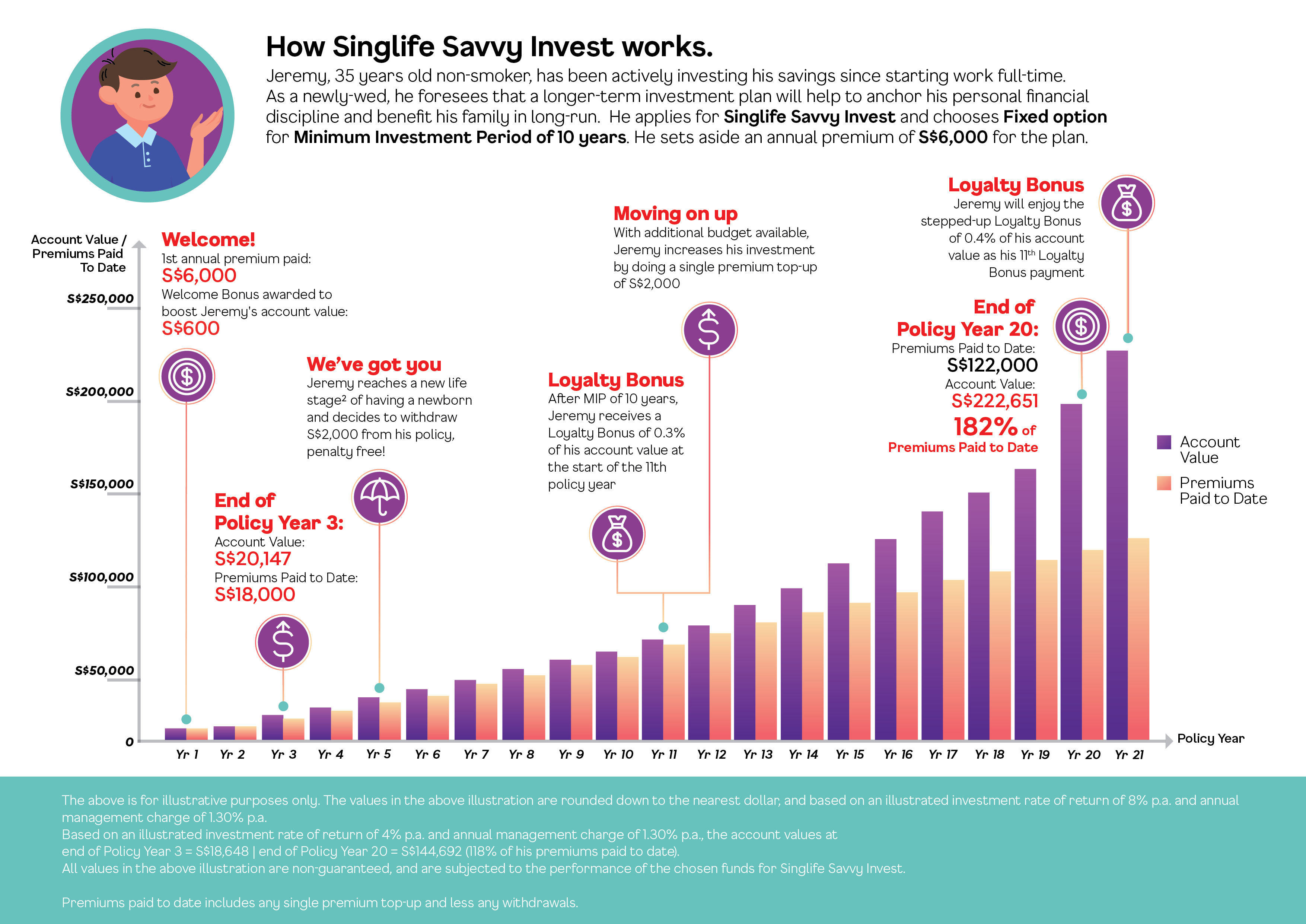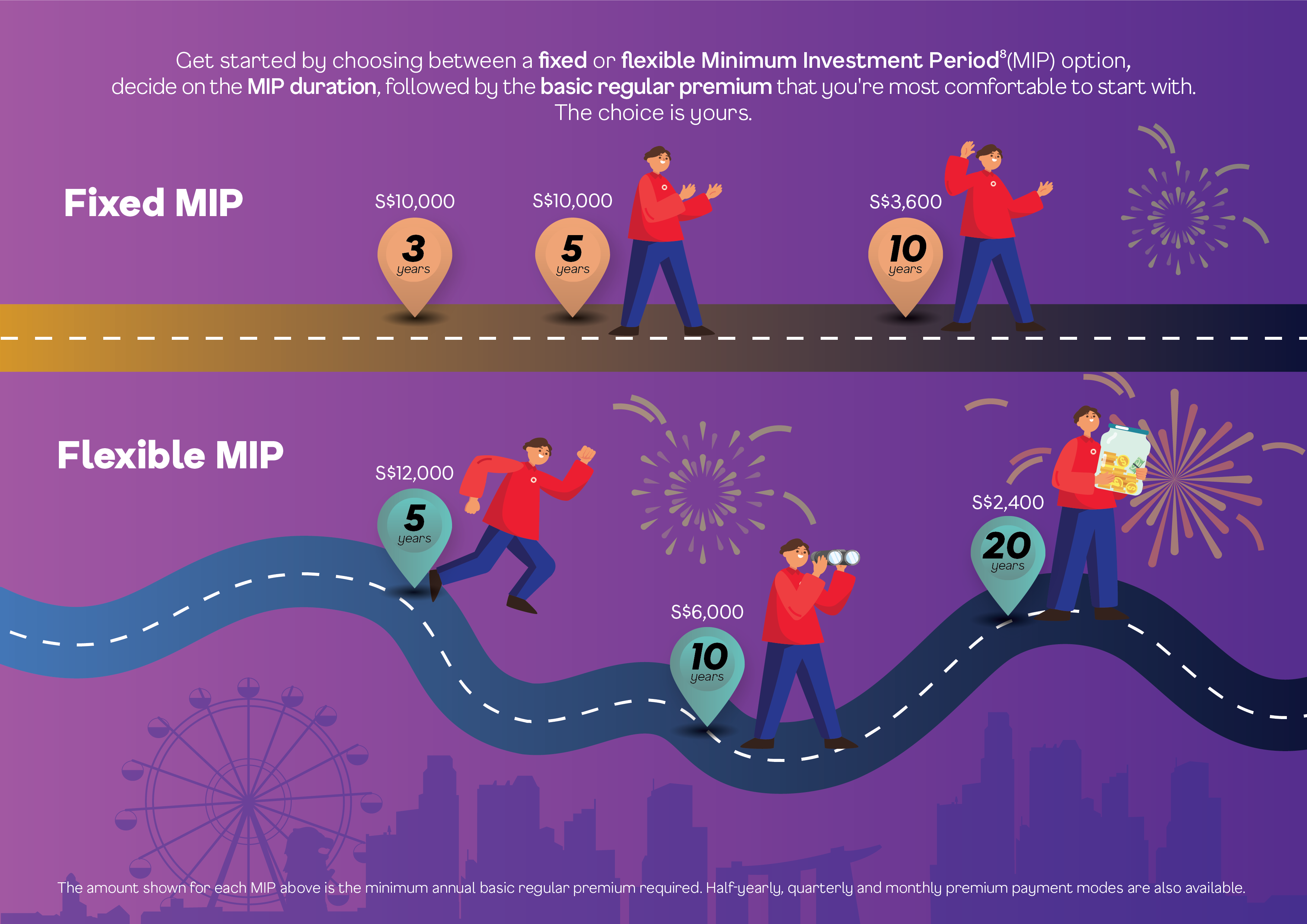 All ages mentioned refer to age next birthday.

Summary of Fees and Charges
Singlife Savvy Invest Promotion
Get Additional Welcome Bonus of up to 11% and Premium Cashback of up to 8% when you apply for Singlife Savvy Invest!*
*Terms and conditions apply.
Prefer to speak to a financial adviser representative?
Leave your details below and we'll be in touch to provide you with more information.
Subscribe to our monthly newsletter for useful tips on insurance and financial planning.
You may also call Singlife Financial Advisers at +65 6827 9980 (Mon - Fri, 9am to 6pm) if you're interested to purchase the product. 
If you have an existing financial adviser representative, please leave your details in the form below and they will be in touch. 
This policy is underwritten by Singapore Life Ltd. 
This is published for general information only and does not have regard to the specific investment objectives, financial situation and particular needs of any specific person. A copy of the Product Summary may be obtained from us or our participating distributors' offices. You should read the Product Summary before deciding whether to purchase the product. You may wish to seek advice from a financial adviser representative before making a commitment to purchase the product. In the event that you choose not to seek advice from a financial adviser representative, you should consider whether the product in question is suitable for you.
As buying a life insurance policy is a long-term commitment, an early termination of the policy usually involves high costs and the surrender value, if any, that is payable to you may be zero or less than the total premiums paid. Buying a health insurance policy that is not suitable for you may impact your ability to finance your future healthcare needs. This is not a contract of insurance. Full details of the standard terms and conditions of this policy can be found in the relevant policy contract. Investments in this plan are subject to investment risks including the possible loss of the principal amount invested. The value of the units, and the income accruing to the units, may rise or fall. Past perfor-mance of the ILP sub-fund(s) is not necessarily indicative of future performance.
Information is accurate as at 14 March 2022. This advertisement has not been reviewed by the Monetary Authority of Singapore. 
COMP/2022/03/MKT/219
This policy is protected under the Policy Owners' Protection Scheme which is administered by the Singapore Deposit Insurance Corporation (SDIC). Coverage for your policy is automatic and no further action is required from you. For more information on the types of benefits that are covered under the scheme as well as the limits of coverage, where applicable, please contact us or visit the Life Insurance Association or SDIC websites (www.lia.org.sg or www.sdic.org.sg).