What is a unit trust?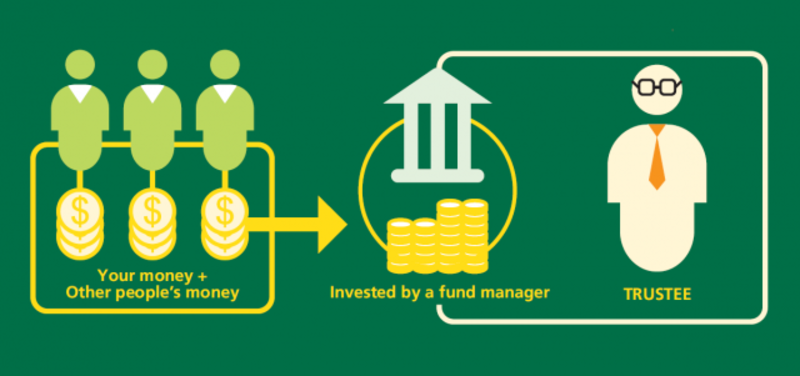 A unit trust is a fund that is managed by a fund manager and invested into a variety of assets, according to the unit trust's stated objectives and investment approach. All investors' money is pooled together to be invested as one.
Apart from the fund manager who is investing your money on your behalf, there is also a trustee. The trustee is independent of the fund manager and looks after your interests by ensuring the fund is properly managed by the fund manager. 
Why do people buy unit trusts?

1.  Diversification
The money in the fund is used for different investment opportunities. So losses in one area of investment may be balanced by profits made in another.
You can do this even with small amounts you invest as the money is pooled.
 
2.  Access into wider investment opportunities
There are some bonds that require a very high minimum investment. One person may not be able to afford that sum. But a few people who pool their money together, could.
 
3.  Relatively low initial investment sum
You can start with as little as S$200 monthly or S$1,000 as a lump sum investment.
Investments need time to grow. A 5-year or longer time frame to allow investments to grow should be taken into account when planning your finances.
If you're not sure how much you can or should put aside, speak to an adviser or do the following simple calculation as a general reference:
 
Your income - Fixed monthly expenses (including bills & debt repayments & other non-fixed expenses) = $X
Who buys Unit Trusts?
Anyone can! But to be responsible, they should understand their time horizon and risk profile to determine if they can afford to commit to the investment period and the amount of initial or regular sum investments needed. 
DON'T buy Unit Trusts if:
You wish to withdraw the amount you're investing in a short time.
You want to see quick returns from the amount you're investing.
You're not comfortable with the fund manager and the track record of the funds you're intending to invest in. 
Getting started: Three ways you can purchase unit trusts 


1.  Through a financial adviser (FA) representative
Good for: people who need proper risk advice on your investment profile. Use platforms such as Singlife's Navigator, a hub that brings together products and tools to manage your investment portfolio.
Don't have an FA yet?  
Ask for recommendations from trusted friends and relatives. Or contact insurance companies directly and ask for a referral.
Meeting your FA for the first time?  
Bring these:
– Your current financial portfolio (insurance and investment plans you already have)
– Personal identification docs (ask your FA which ones are necessary) 
 
2.  Online purchase
If you're confident enough to navigate the world of unit trusts and investments on your own – great! You can actually do everything online.
Tip: Explore your chosen platform's online features for extra knowledge and information. For example, dollarDEX offers an online chat feature with fund experts. So if you're new to this, you can get real-time advice before you buy!
How to begin?
– Identify the portal you want to use and sign up as a member
– Submit your identification papers and a signed application form to the branch office
– Start your research to determine what funds to buy
 
3.  Through a bank
You can also walk in to a bank and purchase unit trusts. One thing to note: banks don't normally offer wrap accounts.
Quick fact: A wrap account is one that caters to those who want to switch their investments over time as their needs and risk profile change. A non-wrap account is one that caters to those who don't require active portfolio management. Both involve different fees and charges.
Note: Regardless of which option you choose, you'll need to pass a Customer Knowledge Assessment (CKA) – an assessment of your investment experience, working experience and education qualification to safeguard your interest when you choose to purchase an investment product. In the event you fail your CKA, you might not be able to purchase unit trusts online but you can still do it through a financial adviser instead. 
Fees & charges
There are upfront, switch, ongoing and platform fees attached to buying unit trusts.
The charges vary from provider to provider.
For example, Singlife's Navigator portal charges a nominal 0.15% platform fee for investments below S$100,000. The rest of the fees are to be agreed with your financial adviser and depends on a number of factors, such as payment by CPF or cash, but will be no more than 5% of the investment you're making. If you opt for a wrap account, an ongoing and platform fee of no more than 2% will be charged on a quarterly basis or part thereof, on the value of your investment.
Look out for promo offers! Sometimes these fees may be waived. 
You can pay with…
Most funds allow you to use your SRS account or your CPF savings – so no cash needed.
If you're using money from your savings account, remember to bring your chequebook when you meet your adviser. If you're investing with your CPF money, bring along your CPF statements or just access them online via the CPF portal.
Can you withdraw your investment money at any time?
Yes, you can withdraw all your investments at any time. If you want to keep your account going, there are some minimums to meet, for example, a minimum withdrawal amount of S$1,000 and also a residual balance amount of S$1,000.