The World Cup has certainly gripped our attention over the past month or so. Even though the final whistle has sounded, you can still play the role of a striker, midfielder and defender in "scoring" retirement goals for your parents.
 
There are plenty of people already playing this "game" with increasing numbers topping up their parents' Central Provident Fund (CPF) accounts. The number of top-ups and the amounts being deposited by children into parental accounts have grown in the three-year period from 2015 to last year, said the CPF Board.
 
There were 13,800 top-ups (cash and CPF) from child to father last year, up 35.3 per cent from 2015, while the dollar amount grew about 60.6 per cent to $55.9 million. The numbers are higher for top-ups to mothers, which is unsurprising as more females than males have lower CPF balances.
 
During the same period, the number of top-ups from child to mother rose 38.3 per cent to 29,600, while the amount rose 66.4 per cent to $144.4 million. The attractive, risk-free CPF interest rates are certainly a good reason for these top-ups. Topping up a loved one's account allows them to benefit from the compounding effect of these rates and, in turn, helps them build a healthy retirement nest-egg.
 
Note that CPF savings in the Special Account and Retirement Account (RA) earn annual interest rates of 4 per cent. The first $60,000 of your combined CPF balances, of which up to $20,000 comes from your Ordinary Account, earns an additional 1 per cent interest per year. An additional 1 per cent interest is paid on the first $30,000 of combined CPF balances for all members over 55.
Striker: Play an active role, be opportunistic 
The CPF Board advises you to strike early if possible. This is because the interest can start growing as soon as you top up early in the year. So make every cent count. After all, it's another five months or so to the end of this year.
 
Certain cash top-ups to your loved ones also qualify you for tax benefits. A cash top-up to the CPF accounts of a parent or grandparent gives the donor up to $7,000 tax relief.
 
To make the top-up, transfer your CPF savings, in excess of the prevailing Full Retirement Sum ($171,000), to your parent's CPF account. This can be done via the CPF website, AXS stations or by completing the Retirement Sum Topping-Up form and mailing it with the cheque to the CPF Board.
 
These top-ups will enable your parents to receive higher monthly payouts from the national annuity CPF Life scheme. If you are already making top-ups to your parent's CPF account, why not do it earlier in the year to earn more interest.
 
You stand to earn around 20 per cent more interest on your CPF savings in 10 years by topping up in January. For example, by topping up $70,000 in January, the interest amounts to $21,574 after 10 years, which works out to be 20 per cent higher than the $17,802 interest generated over the same period for topping up $70,000 in December.
 
So don't procrastinate and wait until the end of the year. Strike now! A convenient way is to make these payments via regular monthly or yearly top-ups through Giro. This avoids having to complete forms or issue cheques.
 
Midfielder: Understand the current situation 
Start by having a chat with your parents to understand their desired retirement lifestyle and how they are working towards it. Depending on how much money they want a month in retirement, they can set the corresponding sums in their RA at age 55. 
Due to the risk of outliving our savings and inflation, the way people plan for retirement has evolved, says Invest editor Lorna Tan.

With increasing longevity, it is important that your parents have monthly payouts that last them for as long as they live. If they are not on the national annuity CPF Life scheme and are under 80 years of age, it's worth considering joining.

Older cohorts of CPF members are likely to be on the Retirement Sum Scheme (previously known as the Minimum Sum Scheme) where they receive monthly payouts for a certain period of time, usually over 20 years, upon reaching their eligibility age.

To better mitigate longevity risks, CPF Life was introduced in 2009 to provide a monthly income for life. You will be placed on CPF Life if you are a Singapore citizen or permanent resident born in or after 1958, and have the requisite RA balances.

Under CPF Life, there are three plans to choose from - Standard, Basic and Escalating. In a nutshell, the Standard plan offers a higher monthly payout but a lower bequest, while the Basic plan has lower payout and higher bequest.

The bequest refers to the unused annuity premiums (without interest) and RA savings that will be refunded to the beneficiaries when the CPF member dies.

The Escalating plan offers a monthly payout that goes up by 2 per cent each year to cope with inflation. However, this plan's payouts start at about 20 per cent lower compared with the CPF Life Standard Plan. It may take about 25 years for the cumulative payouts from the Escalating option to catch up with the payouts from the Standard plan. The Escalating option would then outperform.

Help your parents decide how much money to set aside in their RAs so they can receive their desired monthly payouts. There are three Retirement Sums - Basic ($85,500), Full ($171,000) and Enhanced ($256,500).
For members who set aside the Full Retirement Sum at 55 this year, their monthly payouts at age 65 are estimated to be between $1,320 and $1,410. When members do this, they are optimising their retirement savings and making the cash work harder over the long run.

Beyond CPF savings, consider how other private savings, investments or private annuities can help them with their retirement.


Defender: Prepare for uncertainties in the future
Here are seven tips.
1. Adequate hospitalisation cover 
Your parents would be covered under national hospitalisation insurance scheme MediShield Life. If they prefer higher coverage, they can buy private hospitalisation Integrated Shield Plans.
 
2. Long-term care
Find out if your parents are covered under national severe disability scheme ElderShield, which will be enhanced with CareShield Life in 2020.
In addition, there is a range of services - from meals on wheels, a medical escort service, subsidised mobility aids, day and home care services and nursing care - that your parents might be eligible to receive if they are physically or mentally challenged. These services and benefits could be dependent on the severity of their physical health, the annual value of their home and the per capita household income.
 
3. Wills 
Assist your parents with estate planning. Top of the list is making a will to articulate their distribution wishes, including who gets what and when. Do not commit the mistake of putting it off until it is too late. It is prudent for parents to consider the distribution of their estate and decide on an appropriate person or persons to implement their wishes.
This is no doubt a sensitive topic but when you approach it with care and explain the importance of the document, it will help to put your parents at ease.
 
4. CPF nomination
CPF savings cannot be distributed via a will and the Public Trustee charges a fee for administering un-nominated CPF money. It is advisable for your parents to make CPF nominations so that they can distribute their CPF savings according to their wishes.
Each nominee can receive CPF savings in a cash lump sum or in their CPF accounts.
 
5. Lasting Power of Attorney 
Another important aspect of estate planning is to set up a Lasting Power of Attorney (LPA) to appoint one or more persons (donees) to act on your parent's behalf should they become unsound. The donees are allowed to act in personal welfare and property matters.
No one can predict when illness or deterioration will take place. As such, it is unwise to wait until a loved one is showing signs of physical or mental vulnerability before executing an LPA.
Do note that the $75 administrative fee waiver for LPA Form 1 applications has been extended for two more years with effect from Sept 1. In addition, the LPA Form will have to be witnessed and certified by an LPA certificate issuer.
According to the Office of the Public Guardian, the 10 most visited accredited medical practitioners charge fees ranging from $25 to $80, with most charging $50, for the certificate issuing service.
 
6. CPF Life
To prepare themselves for the future and to preserve their purchasing power, your parents may want to consider the CPF Life Escalating Plan, which will give them increasing monthly payouts.
If they are on CPF Standard or Basic plans, they can switch to the Escalating Plan by Dec 31.
 
7. Healthy lifestyle
Prevention is better than cure, so help your parents maintain a healthy and active lifestyle. Monitor what they eat and encourage them to exercise regularly.
Like football, finance can be a complex affair but having a well-thought-out game plan can help you avoid penalties and reach your goals.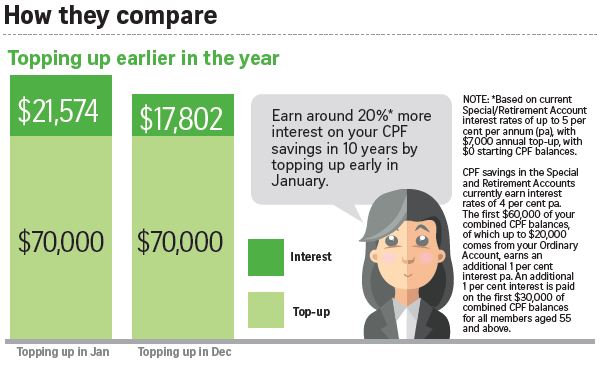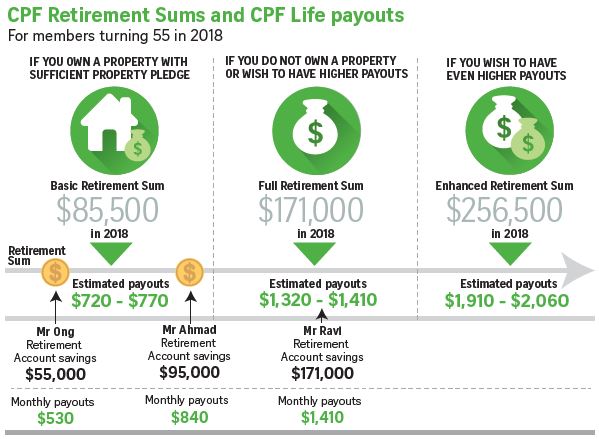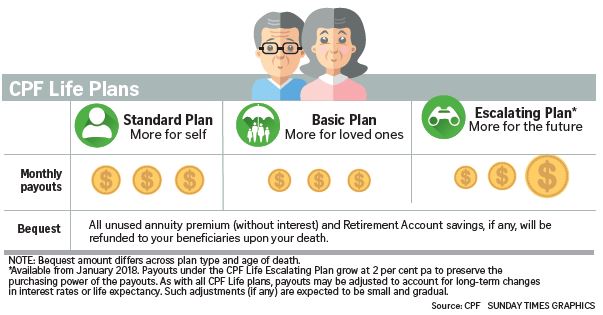 Source: The Sunday Times © Singapore Press Holdings Limited. Permission required for reproduction