This article first appeared in The Sunday Times © Singapore Press Holdings Limited. Permission required for reproduction.

Welcoming a baby into the world is usually a joyous moment for new parents. But the costs of unexpected events can be high. 

A mum hospitalised for pre-term labour could rack up a bill of $4,500 over four days in a private hospital, while a newborn's 100-day stay in the neonatal intensive care unit (ICU) after a premature birth could come up to an eye-watering $350,000.
Awareness of maternity insurance has grown in recent years with more plans being launched and several major insurers here have seen growing take-up of their maternity plans.
For example, Manulife saw a 60 per cent increase in average monthly applications for its plan last year, compared with 2019. The plan was launched in mid-2019. Great Eastern saw about 14 per cent more people taking up its plan between 2018 and last year.
New maternity plans have hit the market while others have been enhanced, with some covering mental health treatments and pregnancies resulting from in-vitro fertilisation (IVF).
If you do not make a claim on a maternity insurance policy, it will lapse after a set period, with no payout. So is it a worthwhile purchase? Here are some of the key considerations.

1. Can you afford potential medical bills without additional insurance?
While few people would be able to pay out of pocket for a $350,000 hospital bill, some might be able to stomach a smaller sum by drawing on savings or MediSave, or tapping family support.
Also, MediShield Life already covers inpatient treatment for 24 pregnancy complications such as pre-eclampsia, post-partum haemorrhage and still-birth.
But the coverage is less than what a private insurer would provide as payouts are pegged to B2 or C-class wards in public hospitals, while Integrated Shield Plans by private insurers, which also provide some coverage for pregnancy complications, may not cover as many pregnancy complications as dedicated maternity plans do, notes Ms Anastassia Evlanova, senior research analyst at consumer research firm ValueChampion.
You can check if your group insurance under your employer offers any maternity insurance benefits. Some employers purchase riders that cover maternity expenses or pregnancy complications for employees or their spouses.
For example, Tokio Marine offers a group maternity benefit covering hospitalisation expenses from normal or caesarean delivery, miscarriage and non-elective abortion.
Since local mums would have at least the basic MediShield Life protection for hospitalisation expenses from pregnancy complications, a key component of maternity insurance to look at is the coverage for the newborn.
This includes a payout if the baby is diagnosed with one of the covered congenital illnesses - which could include congenital deafness and cerebral palsy - as well as a daily hospital care payout for certain situations such as admission into the ICU or phototherapy for severe neonatal jaundice, where the baby needs to be placed under a special light from a phototherapy machine. A one-day C-class hospital stay with phototherapy can cost about $110.

2. Can you afford the premium for a maternity plan?
Premiums for maternity plans range from a few hundred dollars to over a thousand, depending on the sum assured, your age and other risk factors.
Ms Tan Siew Lee, OCBC Bank's head of wealth management Singapore, notes that mums should ensure they are adequately insured for potential pregnancy complications, but also not overstretch their finances.
Keep in mind that pregnancy and delivery expenses are usually several thousand dollars, including gynaecologist visits, prenatal vitamins, various tests and the hospital stay during delivery, though the MediSave Maternity Package provided by the Government helps to offset some of these costs.

3. What are you most worried about?
Since the main point of insurance is to buy yourself additional peace of mind, decide what you are most worried about and weigh the potential costs of treatment for the condition or event against the cost of the maternity plan premium to see if it would be worth it to take up the plan.
Certain plans have special features that may cater to your specific needs, such as coverage for pregnancies through assisted reproductive technology such as IVF, or a multiple pregnancy. Some plans also provide a payout for outpatient phototherapy treatment for severe neonatal jaundice, or for mental wellness care for the mum.
Other special features include coverage for developmental delays of the child or death of the mother or baby due to medical negligence. Another point to note is that maternity plans are either standalone plans or bundled with other insurance products such as life insurance or an investment-linked plan. If you are sufficiently covered in these other aspects, you may need only a standalone plan.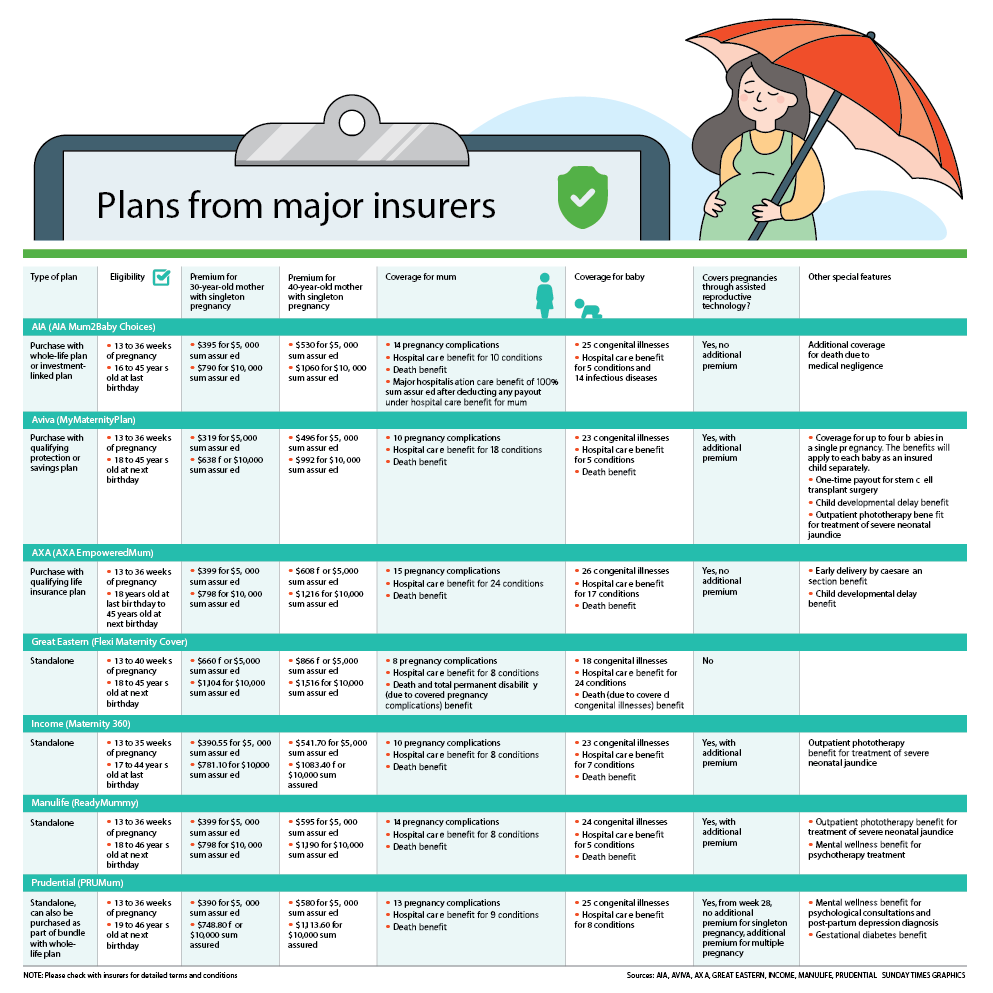 However, if you are planning to insure your child from the get-go, you may prefer a bundled plan which can be transferred to the baby within a certain period, with no medical underwriting. This means the baby will be covered even if he or she is born with congenital conditions or birth defects. AIA, AXA and Prudential offer such an option.
Aviva, Great Eastern and Manulife offer the option to purchase certain plans for the baby within 90 days of birth without the need for medical underwriting. AXA does so for purchases within 60 days of birth. Income requires a simplified health declaration.
Click here to view the high-resolution comparison chart.

You can talk to a financial adviser representative before deciding which product is most suitable for you.
Take note of what you are paying for, as only certain components of the maternity plan will pay out the full sum assured when claimed. For example, the hospital care benefit may pay out only 1 per cent of the sum assured per day, for up to 30 days.
If you have decided on a specific maternity plan, DBS Bank head of financial planning literacy Lorna Tan suggests buying the insurance as soon as you are eligible, which is usually after the first three months of pregnancy. This is because the premium is usually the same whether you buy earlier or later. The latest you can purchase a plan is typically between 35 and 40 weeks of pregnancy.
As of 1 January 2022, Aviva Singapore is now Singlife with Aviva.