With the nation's 54th birthday round the corner, it is an opportune time to familiarise ourselves with our social security system, the Central Provident Fund (CPF) and its schemes. Some members may find the CPF complex and difficult to understand but it is essential to be familiar with it as it includes many ways for us to optimise our retirement savings. Its mission to help its members achieve a secure retirement is supplemented by home ownership, which provides an important pot of savings that members can draw on through schemes such as the Silver Housing Bonus and Lease Buyback.
The Sunday Times offers a quick overview of the 10 things you should know about the CPF.
1) 1 per cent extra interest
The first $60,000 of your combined CPF balances (with up to $20,000 from your Ordinary Account) earns an extra 1 per cent interest a year. So it is worthwhile ensuring that your CPF savings add up to at least $60,000 to maximise earning the extra 1 per cent interest. 
Let's assume Mr Benson Tan has $20,000 in his Ordinary Account, $25,000 in his Special Account and $15,000 in his MediSave Account at age 28. With the extra 1 per cent interest on the first $60,000, his Ordinary Account savings would have grown to $33,000, Special Account savings would have grown to $74,000 and MediSave Account savings would have grown to $35,000 over 20 years. This brings his total CPF savings to $142,000. The above computation excludes any contributions that Mr Tan may receive over the 20-year period.
2) Contributions from two parties make up your monthly CPF contribution
If you are an employee, the monthly contributions to your CPF accounts comprise contributions from two parties – you and your employer. CPF members aged 55 and below put in 20 per cent of their wages to their CPF accounts each month, while their employer contributes 17 per cent, bringing your total monthly CPF contributions to 37 per cent of your pay.
3) Three CPF Life plans
CPF Life aims to ensure that we do not outlive our nest eggs. This is an important aspect of retirement planning and it affects all of us. There are three CPF Life plans to choose from – the Standard, the Basic and the Escalating. The plans differ in terms of the monthly payouts you would receive and the amount you would leave (that is, bequest) to your beneficiaries.
The Standard Plan offers higher monthly payouts while the Basic has lower payouts but allows a member to leave a larger bequest to loved ones. Note that the Standard is the default plan for CPF members who do not choose a plan when enrolling into CPF Life.
The Escalating Plan is designed for those with concerns over the rising cost of living and want their payouts to hedge against inflation. Unlike the Standard and Basic plans, which offer monthly payouts that are level throughout a member's life, the Escalating Plan's payouts increase at a fixed annual rate of 2 per cent in return for a lower initial payout.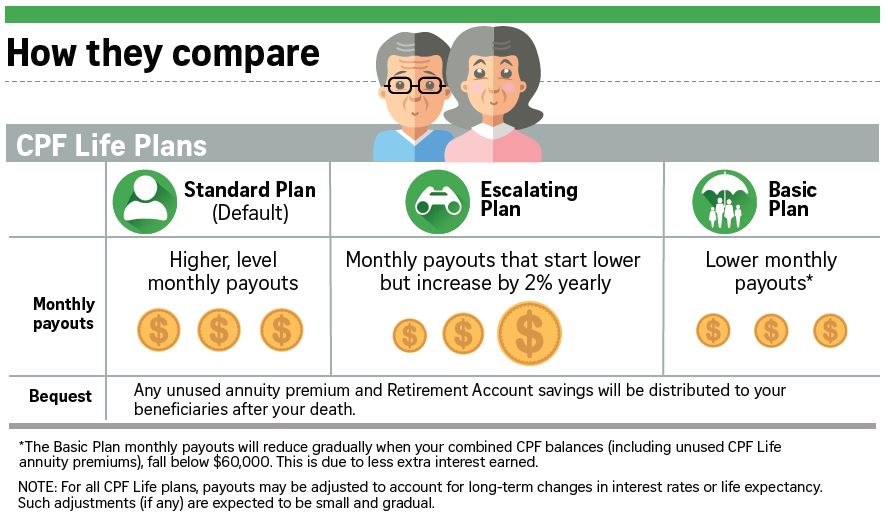 However, the total payout amount eventually exceeds the level payout amount of the Standard Plan in later years due to the annual increments. It will take a member about 25 years under the Escalating Plan to receive the same amount of cumulative payouts compared with the Standard Plan. However, since the payout in the initial years is lower under the CPF Life Escalating Plan, the corresponding bequest during this period is higher.
4) Four CPF accounts
There are four CPF accounts, each serving a different and vital function:
Ordinary: For housing, investment and approved insurance;
Special: For old age and investment in retirement-related financial products;
MediSave: For hospitalisation expenses and approved medical insurance; and
Retirement: Automatically created at age 55, it provides you with monthly payouts in your golden years.
5) Five ways to top up your CPF using cash
If you want to make cash top-ups to build your own or your loved ones' retirement savings, you can do so in the following five ways:
Internet banking (if you have an OCBC account);
E-cashier (PayNow QR & eNets);
AXS machines;
Giro;
Cheque.
6) Earn up to 6 per cent interest a year
From 55, you will earn an additional 1 per cent extra interest on the first $30,000 of your combined CPF balances (with up to $20,000 from your Ordinary Account), which means your CPF savings potentially earn risk-free interest of up to 6 per cent a year. That's not to be sniffed at.
7) Enjoy $7,000 tax relief
When you do a cash top-up to your Special/Retirement Account, you can earn tax relief equivalent to the top-up amount, up to $7,000 a year.
8) Eight ways you can use your CPF for housing
The housing payments that can be made using your Ordinary Account savings are:
Down payment;
Mortgage;
Stamp duty;
Legal fees;
Valuation fees;
Upgrading;
Construction loan for landed properties; and
Home Protection Scheme premiums (for HDB flats only).
9) Nine uses for your MediSave
Preventive care such as vaccinations and screening tests;
Rehabilitation and recovery care;
Insurance premiums for MediShield Life, Integrated Shield Plans and ElderShield;
Maternity costs;
Old-age medical expenses, such as Flexi-MediSave for outpatient medical treatment when you are 60 or above;
Selected outpatient treatments such as renal dialysis and cancer care;
Surgery or hospitalisation;
Recommended medical scans like MRI; and
End-of-life care such as palliative care at a hospice or at home.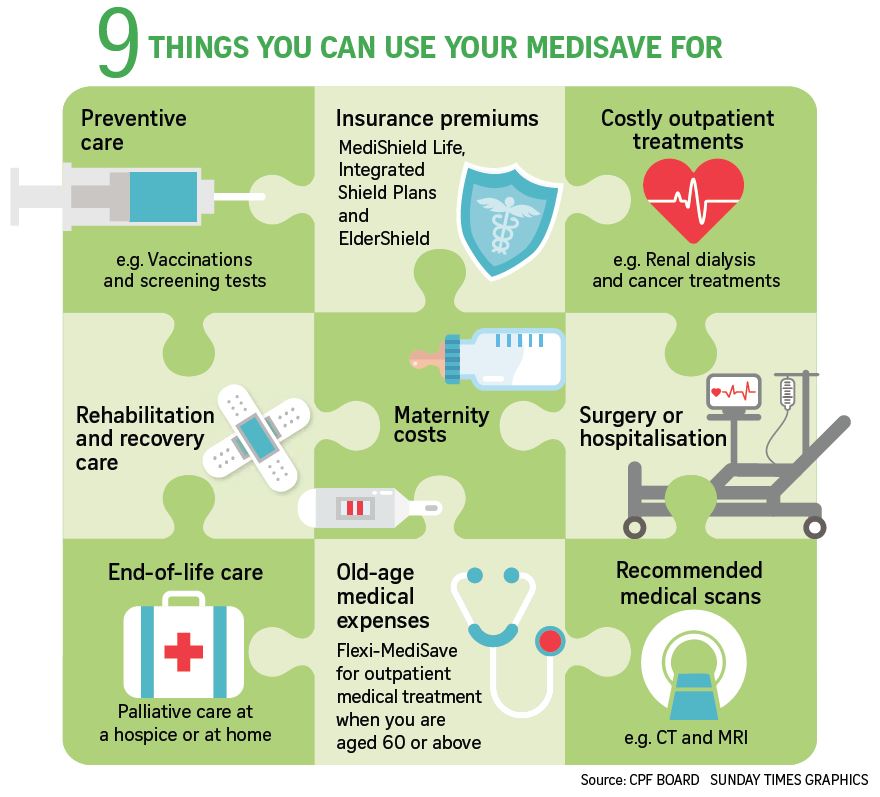 10) Ten other recipients for CPF transfers
Besides your spouse, there are 10 other people whom you can transfer your CPF savings and result in a tax relief (subject to conditions) while helping to build their retirement savings. In addition, cash top-ups beyond the Full Retirement Sum will not be eligible for tax relief.
They are:
Parents;
Parents-in-law;
Grandparents;
Grandparents-in-law; and
Siblings.


Source: This article first appeared in The Sunday Times © Singapore Press Holdings Limited. Permission required for reproduction.