Homegrown financial services company, Singlife with Aviva has raised the crediting rates on its flagship digital product, the Singlife Account, allowing customers to earn up to 3% per annum (p.a.) should they take part in all Singlife Account-related campaigns.

With effect from 1 October 2022, the crediting rate on the first S$10,000 invested into a Singlife Account insurance savings plan is raised to 1.5% p.a.. For funds between S$10,000 and S$100,000 in the insurance savings plan, the rate is 1.1% p.a..
| | | |
| --- | --- | --- |
| Account Value | Base returns before 1 Oct 2022 | Base returns from 1 Oct 2022 |
| First S$10,000 | 1.0% p.a. | 1.5% p.a. |
| S$10,000 – S$100,000 | 0.5% p.a. | 1.1% p.a. |
| Above S$100,000 | NIL | NIL |
Singlife will be increasing its crediting rates for the Singlife Account

By participating in both the Save, Spend, Earn Campaign and the Singlife Sure Invest Bonus Return Campaign, qualifying customers get a bonus return of 0.5% p.a. each. This means that Singlife customers can earn returns of up to 2.5% p.a. on the first S$10,000 in their Singlife Account.

This increase comes as central banks raise interest rates globally to address rising inflationary pressures. Singlife customers can enjoy better ways to financial freedom, by getting more from their savings to cushion the impact of an uncertain macroeconomic environment.

These adjusted rates keep pace with market movements, enabling customers to enjoy up to 2.5% p.a. returns on their funds, with capital guarantees, without lock-ins or withdrawal fees.

On top of this, for a limited time, customers who want to boost their savings and earn effective returns of up to 3% p.a., can do so with the newly launched Singlife Account Special Incentive Campaign.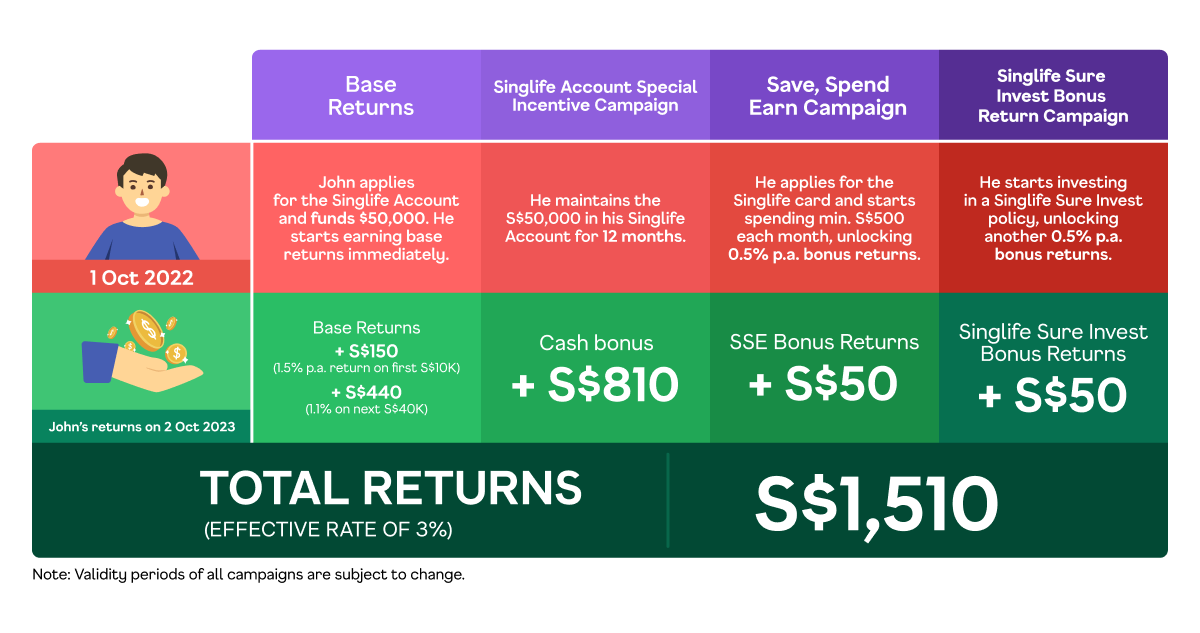 A bonus incentive of S$50, S$430 or S$810, is available to customers who top up S$10,000, S$30,000 or S$50,000 respectively in fresh funds between 1 October and 31 December 2022 and maintain the amount in their accounts for one year.

With the cash bonus earned from participation in the Special Incentive Campaign, customers who are also earning bonus returns via the Save, Spend, Earn Campaign and the Singlife Sure Invest Bonus Return Campaign will enjoy effective returns of up to 3% p.a..

All new customers will also be rewarded with a S$10 sign-up bonus and benefit from a lower minimum sum required to start a Singlife Account, at S$100 instead of S$500.

Varun Mittal, Group Head of Digital & Ecosystems, Singlife with Aviva, said "We have been closely monitoring market conditions and are constantly reviewing ways to help our valued customers make their money work harder for them. The Singlife Account is one of the most competitive and accessible insurance savings plans out there. It is trustworthy, backed by a homegrown insurance and financial institution, and flexible – allowing anyone with a digital mindset to earn daily interest with no lock-ins and hidden fees. It also comes with a debit card and is incredibly low maintenance, only requiring a starting sum of just S$100. We are constantly innovating to add new features to help create a better way to financial freedom."

The Singlife Account is an insurance savings plan with zero lock-ins. It also comes with a complimentary Singlife Visa Debit Card so customers can enjoy greater liquidity and earn more returns when they spend using it.

Accessible through the Singlife App — the award-winning digital product enables customers to have full visibility and control of their finances, and the flexibility to manage, save, spend, earn, invest and protect themselves all on a single platform. Delivering an interconnected financial experience, the Singlife App provides customers access to both the Singlife Account, and Singlife Sure Invest (previously known as Grow), a digital insurance-linked policy with professionally managed portfolios.

Most recently, the Singlife App was awarded 'Mobile App of the Year - Singapore" at the Insurance Asia Awards 2022 — one of the most prestigious insurance industry awards in the region honouring exceptional initiatives, products and solutions for over 130 companies from 30 countries in Asia.

For more information on the updates to the Singlife Account, please visit Singlife Account.