Everyone needs money; in fact, most people could always use a bit more. Like it or not, money is a means to some very good ends such as security for yourself or your family, learning and education, a support for greater cause and many more. 
At its most fundamental, money serves to meet basic needs like food and a roof over one's head. For most people, these are things that they sometimes take for granted and believe they'd always have.
But sometimes the unexpected happens; jobs are lost or retrenchments occur. There are booms and slumps. Illness strikes. And your income is not a certainty anymore. This is why it's important to have an emergency fund (over and above insurance plans) so that if unfortunate circumstances occur, you'd have some savings to tide you over as you take steps to rebuild your career or personal life. 

Getting started
The idea in itself is probably more daunting than it actually is.
There are several ways you can go about it depending on how disciplined you are and how much you're willing to put away.
A good rule of thumb is to have at least three months of your salary put away for rainy days. And how do you accumulate this? Depending on your financial situation (whether you're drawing a fixed or commission-based or variable income) you may decide to either put away a determined sum every month (like $500) or bank in your huge bonus and not touch it.
Here's a sample working out: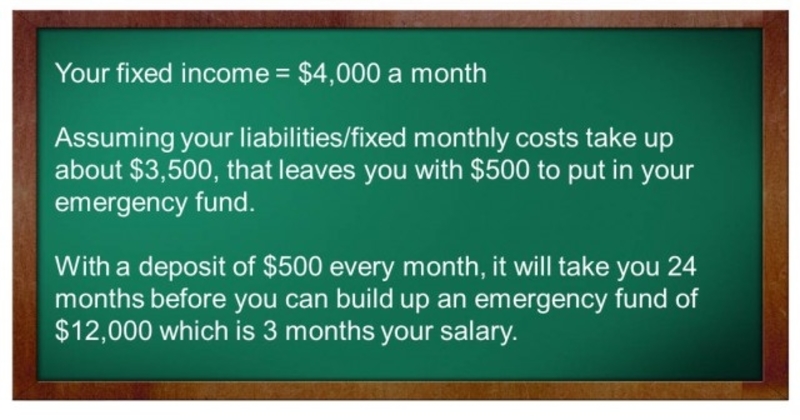 And that's OK.
You should also seek advice from your preferred financial adviser representative to help you analyse your cash-flow to see how much money your current liabilities and debts allow you to save up, be it in parts or in one lump sum.
You can start off by building your emergency fund in a savings account because it's simple to use and allows you to dip into it easily when you need to. But the low interest rates could mean taking a longer time to reach your goal. 

Diversify your savings
If you feel "motivated" to reach your emergency fund goal quicker, you can always diversify your portfolio with savings and investment tools. Speak with your preferred financial adviser representative or bank manager about what kind of plans are suited to your risk appetite.
If you prefer to take on a higher risk in exchange for a potentially higher return, you can consider investing with Singlife with Singlife's unit trust platform, Navigator. Unit trusts typically don't provide a capital guarantee but may offer potential returns in accordance to market performance, and has the benefit of liquidity1.
Remember, it's not important how fast you get there. What matters is eventually having your emergency fund when you need it most.  
Footnote:
1All investments involve risk and capital and returns are not guaranteed. Past performance is not necessarily indicative of future performance. The performance of a Unit Trust is not guaranteed and, in particular, the value of the units in the Unit Trusts may fall, as well as rise.