You don't need to be a Rhodes Scholar to know that many parents here regard their children's tertiary education as a top concern, with some even putting it ahead of their own retirement planning. The harder part of the equation is knowing how to pay for it, given the ever-increasing costs. 

A recent HSBC Bank report found that 46 per cent of those polled here worry that they do not have the financial resources to support their kids' education. It also noted Singapore students spend on average $46,425 over the course of a degree at a local institution – $10,008 above what their parents are contributing. You can see what's required –careful forward planning to ensure adequate funds to meet tertiary education needs.

Mr Anurag Mathur, head of retail banking and wealth management at HSBC Bank (Singapore), notes that Singaporeans place a premium on their children receiving a university education, and they're prepared to pay for it. Parents are taking on extra work, sacrificing holidays and turning to loans to help pay for the full cost of their children's varsity education, according to the HSBC report.

Mr Vasu Menon, vice-president and senior investment strategist, wealth management Singapore at OCBC Bank, says: "At the very least, a couple should start planning financially for their kids the moment they decide to get married and start a family. "Starting early will give them a head start in growing their investments through the power of compounding. The cost of purchasing insurance protection is also lower when you are younger."

Financial experts suggest considering a regular investment plan in a well-diversified portfolio of funds providing dividends, together with an endowment plan. Such a plan has the potential to provide higher returns with the advantages of dollar-cost averaging and compounding over time. It can also be liquidated fairly quickly in the event of a financial emergency.

The Sunday Times highlights seven tips to help you fund your children's education.

1. Start early
Financial experts like Mr Brandon Lam, Singapore head of financial planning group at DBS Bank, says it is best to begin "as soon as possible". Starting to save early and gradually allows more time to reach target funds, thanks to compounding.
"If you're a new parent, you might think, "Why should I plan for something that takes place almost two decades down the road?' The reason is, costs will be high, and are expected to continue to rise," he says.

2. Be realistic
Mr Deepak Khanna, head of wealth development at HSBC Bank (Singapore), advises that parents should be realistic about the cost of university education. This means taking into account all the expenses, such as course fees, allowance, transport, food, technology, and so on, when planning how to support their children. It is especially important if they plan to send their children to an overseas university.
"While a university education abroad can help their children to be independent and enhance their job prospects, it is vital for parents to adequately plan for all the implications, including higher tuition fees, international travel and exchange rates," Mr Khanna adds.

3. Working out the gaps
Mr Lam suggests identifying the approximate amount needed and the number of years you have to reach that target.
A Singapore-based student typically enters university at age 20. The savings target should factor in the increase in fees over the time you start saving to the period when your child is about to enter uni.
Based on the average cost of $40,000 for a Singapore undergraduate education, with an annual inflation rate of 1.6 per cent, the amount in 20 years would stand at about $55,000. From this, work backwards to determine the amount you need to regularly set aside, taking into account the benefits of compounding interest on your savings over time, says Mr Lam.

4. Protection
Note that it is prudent to prepare and protect against unforeseen circumstances that may affect the continued funding of your child's education.
Before you even start investing and growing your funds to achieve your child's estimated education cost, it is important to ensure that you have sufficient insurance protection for yourself, says Mr Menon.
"(This) is critical because you don't want to leave your spouse and children financially stranded if the unfortunate happens and you pass on or become incapacitated, especially if you are a major bread winner ," he advises.
Coverage for death, total permanent disability, disability and critical illnesses are some categories of insurance to buy.

5. Saving
Parents should try to save at least 10 per cent of their monthly income and look to invest and grow this after setting aside an emergency fund to tide them over unexpected events like a job loss that can cause cash flow problems, says Mr Menon.
"Saving and squirrelling away savings into a bank account may not be the best option if you are working at building a pool of funds for your child's future needs. Investing and growing your savings are important to beat inflation," he adds.

6. Endowment insurance
Parents can consider investing in an endowment insurance plan that provides a lump sum payout when the child turns 21. Such a policy provides a guaranteed return on a specified date as long as you make the fixed monthly payments. If you should die before the policy matures, your child will receive a death payout that could fund university needs.
So an endowment plan can be seen as a disciplined approach to savings and forms a stable base in your portfolio.

7. Investing
There are various ways to build up funds for your child's education. Investing in stocks, bonds, unit trusts and an education endowment policy are some options. What you choose and how much cash you allocate will depend on your risk appetite and time horizon. If you are younger, with a stronger risk appetite and a longer time horizon, you may be better placed to take on more risk in exchange for more returns.
You could allocate a significant part of your investments to equities or an equity fund. More conservative investors can consider a greater allocation to bonds, bond funds or an education endowment policy.
Financial experts say that a good option would be equity-based funds with a focus on income. This is because the underlying equities of these funds are more stable, and possess better risk-reward characteristics compared to fixed income products. If the dividend payouts of the fund are reinvested, the power of compounding will accelerate the portfolio returns over time.
More sophisticated investors could consider a dual-currency product that allows returns to be converted into the foreign currency required for the tuition fees.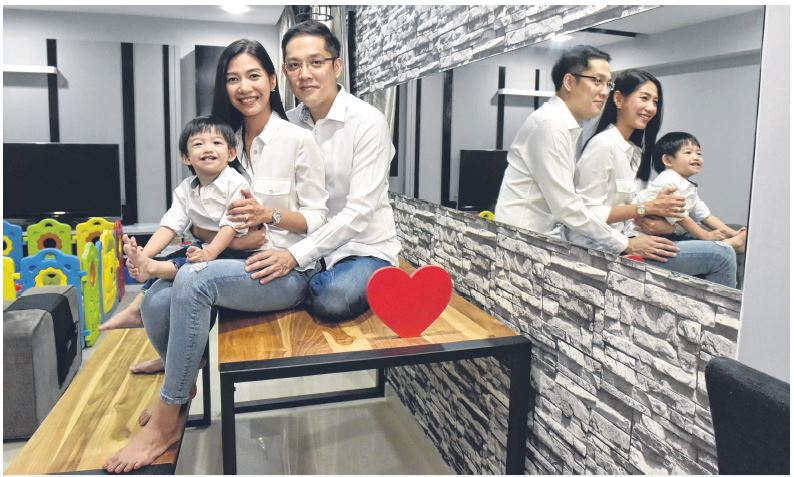 Planning early for the family and son's education
Banker Dennis Chin believes in the Chinese saying xian ku hou tian – If you sacrifice at the beginning, then you will enjoy later.


Mr Chin, 38, told The Sunday Times that he and his wife Shyane Chong, 34, a relationship manager at a bank, started planning for their first-born's tertiary education needs when he was born. Their son David turns two this year.

"We agreed that the earlier we start saving, the less we will spend on activities such as going on overseas travels, shopping and watching movies which may provide instant gratification, but means we need to save more later in life," says Mr Chin, a vice-president at an international bank.

By starting earlier, they can set aside smaller amounts for savings, and be exposed to fewer risks, given that they have correspondingly lower targeted investment returns. The couple have set aside $450 monthly – with $50 going into health insurance, $200 to life insurance and $200 to an investment plan catering to tertiary education needs.

"As our resources are finite, I prioritise my child's basic medical insurance (MediShield and life insurance) before allocating the rest into funding for his tertiary education," says Mr Chin. David is insured for $250,000 each for early critical illness, critical illness, total and permanent disability and death. Mr Chin recalls signing up for a life insurance plan when his son turned one month as it was the earliest he could take on a policy . The plan has a limited premium-paying term of 20 years. The couple want the investment-linked plan to reap at least $100,000, which will form part of David's overseas education costs.

"The investment-linked insurance plan invests into mutual funds as they provide the necessary diversification and growth opportunities across different asset classes, and they are professionally managed," notes Mr Chin. "The $200 monthly commitment will potentially grow to $88,000 after 21 years at estimated annual returns of 5 per cent," he says. He adds that investing a fixed amount each month allows them to maintain affordability, stay invested over the longer term and utilise dollar costing to smooth out the market volatility while avoiding behavioural biases. They also have alternative plans, including tapping his wife's Central Provident Fund (CPF) savings.

This is because she has not utilised her CPF for housing purposes and is on track to hit the Basic Retirement Sum when she turns 55. By then, David would likely be  into his second year of tertiary education, so her CPF savings beyond the retirement sum can be used to fund his education.

Separately, the couple have initiated a plan for monthly investment into bonds, equities and exchange-traded funds for the family to be used for any unforeseen needs that may arise. Also, they can tap their cash savings or retirement funds to close the education funding gap if required.

"Do not over-commit to any one plan," says Mr Chin, "and have sufficient resources set aside to take advantage of opportunities as the financial market is robust and innovative. "New products are constantly being conceived and existing products are evolving. Understand that change is the only constant."

Lastly, review your investment and insurance portfolio constantly and seek professional financial advice for alternative viewpoints to supplement your own philosophy, he adds.

Source: The Sunday Times © Singapore Press Holdings Limited. Permission required for reproduction