Around this time every year, millions of people around the world make resolutions to lose weight, save money, take care of family members, eat healthily, and other things that they hope will improve their lives.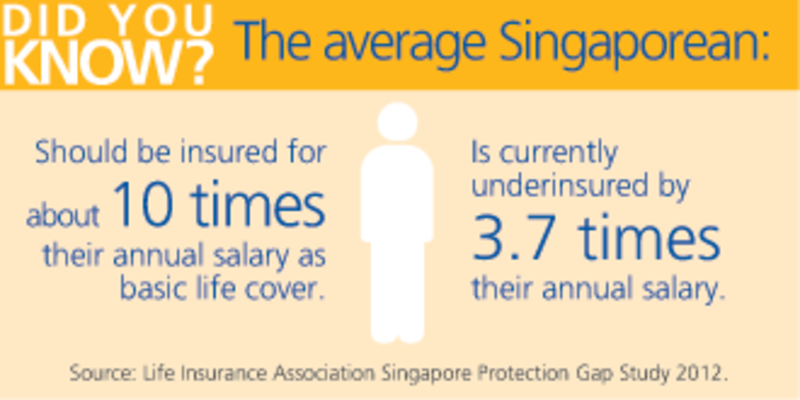 While reviewing your insurance portfolio may not be the most appealing on your to-do list, it's important to ensure that your current plans are still relevant to your needs.
Inflation is an unfortunate certainty, hovering at 3.9 to 4.7% in Singapore in the past few years. Assuming a flat inflation rate of 3% per annum, $100,000 today will be worth only $55,000 in 20 years!
As the cost of living rises, ask yourself whether what you have will be enough for you and your family in the future. Singlife's Product and Marketing Director, Daniel Lum, shares five common factors that could trigger the need for an immediate review: 
1. You have a growing family
Getting married and having children means that more people are financially dependent on you, particularly when you are the sole breadwinner.
Consider who your dependants are – aged parents, spouse and children. Then consider their needs and expenses – mortgage, bills, education fees and their daily necessities. Your insurance coverage should be able to provide for all the above should you no longer be around to provide for them.
When reviewing your portfolio, you should also consider different worst-case scenarios such as critical illness, hospitalisation or disability, and whether the types of coverage you have protects your family against all these.
With certain types of plans, there may be economies of scale you can reap when you purchase for your family members. For example, with Singlife's health insurance, Singlife Shield, if both parents are covered under the two higher plan options, their children will enjoy discounted premiums till 20 years old1. 
2. Your income has changed and along with it, developed distinct lifestyle preferences
Keep your coverage aligned to your income. A higher net worth and more expensive lifestyle means a greater sum assured may be necessary to cover all your expenses.
You can also consider an income protection plan. If you're not able to work due to illness or disability, such a plan provides an income replacement, so you and your loved ones can continue paying the bills and daily expenses. 
3. You're changing jobs
Changing jobs? Review your new employee benefits. You may need to plug gaps such as loss of medical benefits or insurance coverage for your dependants .
Note that you should not rely on employee benefits alone for insurance coverage as they are usually not portable. It may be too late to obtain fresh coverage upon changing jobs as you may have then developed pre-existing medical conditions. So make sure that you and your loved ones have an additional layer of protection with your own personal plans in place. 
4. You become a home-owner
Buying and owning a home is a huge financial undertaking, so if and when you make that commitment, protect that roof over your head! Mortgage protection plans offer a decreasing level of coverage over time, in line with your decreasing loan balance. So if death or critical illness happens, the outstanding mortgage loan amount will fall to the insurer. 
5. You will qualify for elderly person discounts within the next 2-3 years
Growing older usually means a decline in health. While health insurance should always be bought while young and healthy to obtain full coverage, you should do a regular check to see if your plan is up to date and sufficient for the quality of healthcare you expect.
Long-term care is another consideration as you grow older. It is often expensive and for a prolonged period of time.
In Singapore, we have the national CareShield Life and ElderShield schemes which are designed to provide monthly cash payouts to help with the costs of long-term care in the event of disability. You can also increase the payout amount and duration with MediSave-approved supplements for the national schemes, like Singlife's MyLongTermCare/MyLongTermCare Plus and MyCare/MyCare Plus. All Singaporeans and PRs are automatically under the national schemes when they turn 30 (CareShield Life, for those born in 1980 onwards) or 40 (ElderShield, for those born before 1980). You can also increase the payout amount and payout duration with ElderShield-approved supplements.
Ultimately, there is no "ideal" time to review your insurance portfolio; various factors may trigger the need to review it. At the very least, you should review it once a year to ensure your portfolio still meets your needs and expectations.
So, why not start your new year by doing a thorough review of your current assets and coverage? 

Footnotes:
Updated in: March 2022