As the year winds down, it's a good time to see if you have any spare cash to put aside in the Supplementary Retirement Scheme (SRS). You can save hundreds, if not thousands, of dollars in income tax next year by contributing to this retirement savings scheme before Dec 31.

The three local banks which operate the scheme usually hand out cash or shopping vouchers during this period to draw Singapore workers to open new SRS accounts or add to their existing accounts. The SRS was started in 2001 to help Singaporeans save more for retirement and to complement the compulsory Central Provident Fund (CPF) scheme. Participants in the voluntary SRS scheme can contribute any amount, for any number of times in a year, up to a cap of $15,300 for Singaporeans and permanent residents and $35,700 for foreigners. The minimum age to start an account is 18.

There were around 160,000 account holders as of last December – 83 per cent Singaporeans, 12 per cent permanent residents and 5 per cent foreigners. The scheme is becoming increasingly popular, especially among younger workers, the banks have noted. A DBS Bank spokesman said the number of accounts opened last year by customers aged 18 to 36 increased by 20 per cent from 2017. In August, when the Government announced that the retirement age will go up from 62 to 63 from July 1, 2022, DBS saw a 126 per cent spike in account openings compared with the same month last year.

Ms Jacquelyn Tan, United Overseas Bank's head of personal financial services for Singapore, said: "We have seen a growth of more than 80 per cent in customers opening SRS accounts this year compared with the same period last year. "Greater awareness of the SRS, education of its benefits and the ease of application are driving this increase."

Mr Vasu Menon, OCBC Bank's executive director of investment strategy and wealth management Singapore, said the number of new SRS accounts opened with the bank this year has grown 12 per cent, higher than the 10 per cent growth observed last year.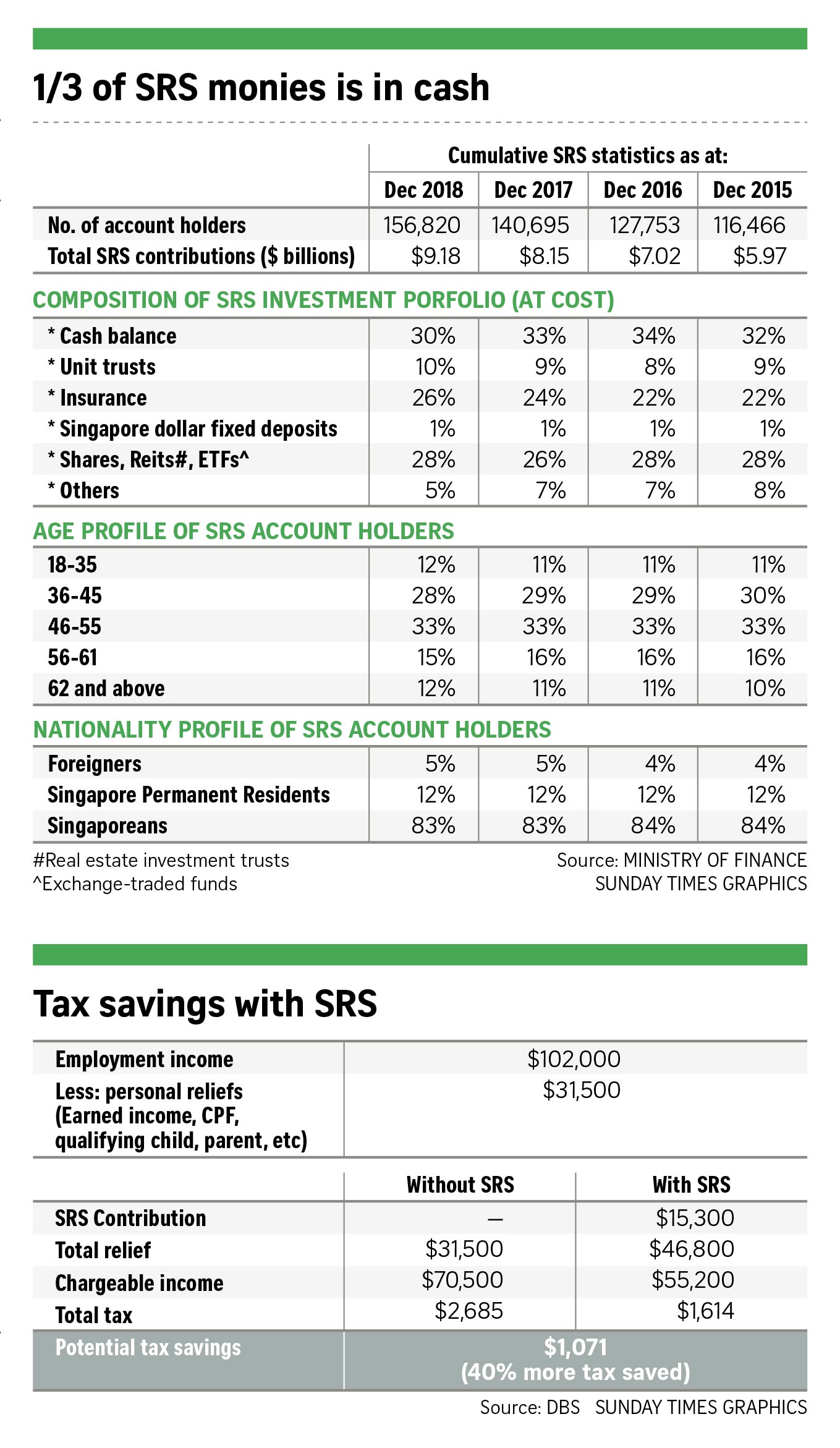 How does the SRS work? 
Every dollar you contribute to the SRS reduces your chargeable income by a dollar. So if you contribute the full $15,300 for the year, you will enjoy a tax relief of that amount. But this is subject to a total personal income tax relief cap of $80,000. If you make $102,000 a year and have a chargeable income of $70,500, you can reduce your tax by $1,071 for the year. This works out to be a 7 per cent return on the $15,300 that you have stashed away in your SRS account.

To make your SRS savings work harder, you can invest your savings. Your investment returns will accumulate tax-free in the account. This is a tax-deferred account so tax is payable when you withdraw your savings. But if this is done upon retirement – which refers to the prevailing retirement age when you first contributed to the account – only 50 per cent of the withdrawal sum will be taxed.

You will be allowed to spread the withdrawals over 10 years. Assume you already have an SRS account, and you have $400,000 in your SRS savings when you turn 62. You could withdraw $40,000 each year tax-free over 10 years, provided you have no additional income during that period. This is because half of the sum is taxable, but in Singapore, the first $20,000 of income is not taxed.

Who will benefit? 
Individuals who have not met the $80,000 cap on individual income tax reliefs but who can put aside the funds for a longer term – until the statutory retirement age or at least 10 years for foreigners – would reap the most benefit, said Mr Panneer Selvam, people advisory services partner at Ernst & Young Solutions.

"These individuals can benefit from the tax relief at the point of contribution, as well as paying tax on only 50 per cent of the withdrawals after meeting the statutory conditions," he added. But he notes that high-earning female taxpayers who are eligible to claim the working mother child relief are more likely to reach the $80,000 cap on income tax relief, so such tax benefits may not apply to this group of Singapore workers. He points out that to gain the maximum benefit from the scheme, you should size your SRS contributions accordingly.

For example, if you are a Singaporean and eligible to claim reliefs of up to $70,000, you may wish to contribute only $10,000 to the SRS, rather than the maximum amount of $15,300, as there will be no tax relief available for the additional $5,300. You should consider putting the extra funds into other long-term investment vehicles, as the tax relief at contribution for SRS is no longer available and it would be more beneficial to invest in funds that provide tax-free returns as capital gains are not taxed here, Mr Selvam said.

To SRS or not?
Other than the tax benefits, the SRS is also a fairly flexible scheme. Mr Michele Chao, a tax partner at Deloitte Singapore, said that as it is purely optional, individuals can decide whether they want to make an SRS contribution for any particular year, depending on their financial circumstances. "There is no obligation to make contributions every year and the amount contributed may differ from year to year, as long as contributions do not exceed the yearly SRS contribution cap," he said.

UOB's Ms Tan points out another flexible feature: SRS withdrawals need not always be in cash. "If you would like to withdraw your SRS investments at retirement age without selling, you can choose to transfer the investments out of your SRS account," she said. "For example, your shares can be transferred directly out of your SRS account to your respective investment holding account." 

However, the scheme is not without drawbacks. As SRS savings are designed as retirement savings, any withdrawal prior to the retirement age will be slapped with a 5 per cent penalty and 100 per cent of it will be taxable. Given the lock-in period, you should ensure you have sufficient funds set aside for other life exigencies and do not need to rely on funds in the SRS account, which is intended to be held for long-term retirement purposes, said Mr Chao. Unlike the CPF, the SRS account does not pay you an annual interest of between 2.5 per cent and 6 per cent.

Mr Menon noted that the SRS account is essentially like a savings account that earns a minimal interest. If you save money in your SRS account without investing it, the capital gains will be minimal, especially if you consider inflation, he warned.

What to do with the money?
"To help grow your retirement savings, you can invest your SRS funds in a wide range of financial instruments, such as Reits (real estate investment trusts), local shares, bonds, fixed deposits, insurance plans and unit trusts," said Ms Tan. "While SRS was predominantly invested into SRS-approved shares in the past, a growing list of investment options available under SRS has provided people with more choices to invest their SRS into a larger variety of asset classes, region and strategies. More investors are now allocating their funds towards insurance, unit trusts and bonds."

Mr Menon said there is no onesize-fits-all solution for those with an SRS account. "A lot depends on your risk appetite and investment time horizon. Given that SRS is intended for long-term needs like retirement, it should ideally be invested with a long-term view," he said.

"Instruments available using SRS funds vary in terms of their tenor, potential returns and risk levels. It is always wise not to place all your eggs in one basket. "Some people may have the wrong mindset, that since they cannot touch their SRS funds until age 62, they take aggressive bets and place everything into a single investment. One wrong move can affect your retirement plans. It is better to diversify your investments."

While SRS funds can be invested in a wide variety of assets, including exchange-traded funds listed on the Singapore Exchange, direct property investments are prohibited, he noted. And for life insurance products, only single premium plans with life cover of no more than three times the single premium are allowed.

"For those with a lower risk appetite, selected single premium endowment products can be considered," he said. "And for those with a strong risk appetite, stocks or equity-related unit trusts can be considered. These instruments may be more volatile, but if you can stomach the volatility, they may produce better returns in the long term. Other kinds of unit trusts to consider are multi-asset funds and funds that invest in a diversified basket of income-yielding instruments that offer a regular and decent income payout, which may be appealing given the low interest rates."

Ms Diane Chang, senior vice-president of deposits and secure lending at DBS, said individuals should be clear about their financial aims when putting money in the SRS. "You should contribute a sum that you're comfortable with and still have sufficient liquidity set aside for your financial and investment needs, such as opportunistic investments or the purchase of a property," she said. "Any amount contributed to SRS annually counts – you don't necessarily need to hit the limit. Placing a small amount of funds in SRS will help in two ways: through tax savings and by building the discipline of setting aside funds for retirement.

"This benefits anyone regardless of your investment strategy, which is dependent on every individual's needs and risk appetite," she added.
Source: This article first appeared in The Sunday Times © Singapore Press Holdings Limited. Permission required for reproduction.