As the year comes to an end and a new year beckons, it is time to take stock of what has passed and make plans for what is to come. Instead of wondering where the hours, days and months of this year have gone, I try to put my time this month to good use by taking stock of how the year has worked out for me.
It is also time to reflect and plan my New Year resolutions.
1. Reaching 55
I will be turning 55 next year. As part of my retirement, I plan to set aside the Enhanced Retirement Sum of $264,000 in my Central Provident Fund (CPF) Retirement Account (RA) during my birthday month.
This will help ensure that I can receive between $1,850 and $2,050 in monthly payouts from the national annuity CPF Life scheme's Standard Plan for the rest of my life, when I reach the payout eligibility age of 65.
This is what will happen: When I reach 55 next year, the CPF Board will sweep $176,000 (Full Retirement Sum) of combined CPF savings from my Ordinary Account and Special Account into my RA. I plan to top up $88,000 in cash to hit a retirement sum of $264,000 in my RA.
As CPF Life payouts are reliable, they will be part of my passive source of income to fund a basic retirement. Beyond that, I have invested my savings in other higher-yielding instruments to stretch my dollar and ensure a sustainable retirement.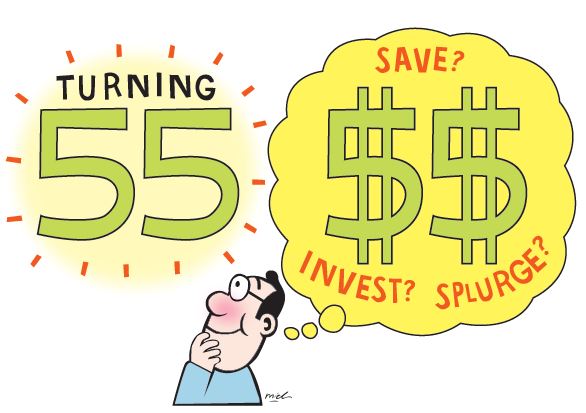 2. Tracking my financial investments 

I have been gradually building up my stock portfolio that is now worth about $320,000, and I try to keep track of the gains and losses so as to gauge how well my portfolio is performing.
I have set up a spreadsheet that tracks the gains, losses and dividend payouts. My plan is to resist touching these gains and dividends by channelling them into a separate bank account. This will be part of my war chest that I can draw upon when opportunities come by so I can work my money harder.
With the market volatility expected in 2019, I will be on the lookout for bargains.

3. Reviewing my insurance portfolio
Every year, I review my insurance policies and align them with my current protection needs. I used to own eight life policies with six different insurers and most were bought about 20 years ago.
Besides looking out for protection gaps, I include in my review the revised projections of the cash or maturity values of each policy.
With that, I have a more realistic projection of future benefits from my policies and their impact on my financial plan.
In the past few months, I have surrendered most of my whole-life plans as the accumulated cash values have grown higher than the premiums paid (which means they have broken even), and I can find better use for my savings. I still maintain a limited pay plan that has a critical illness rider, two savings plans as well as my private Integrated Shield Plan.

4. Retire Smart - Financial planning made easy
In March, my third book, Retire Smart - a compilation of my past financial articles that appeared in The Sunday Times' Invest section - was launched.
Thanks to my publisher Straits Times Press and many supporters, book sales have been very encouraging. It is my desire that everyone has a financial plan and is able to retire well.
Though the focus of the book is retirement planning, readers will also benefit from topics like legacy planning, credit and debt planning, and insurance and investment planning.
Writing the book and attending meet-the-people events and so on have been an invaluable experience and I hope to be able to reach out to as many people as possible.

5. Personal development
Famous Chinese military strategist Sun Tzu warned against complacency and the danger of easing up when one is seemingly ahead of the game.
Taking a leaf from Sun Tzu's book, and believing that one never stops learning, I would like to set aside some time and money to invest in myself.
This includes buying self-improvement books, and attending courses and seminars, be they in financial knowledge or soft skills like public speaking.

6. Striking a balance
To me, life is a balancing act. While I try to balance my work life with my personal life, I also balance my financial objectives so I do not go overboard and take on more risks than necessary to achieve my goals.
After all, higher risks do not necessarily mean higher returns.
In fact, they may result in the reverse, especially if you are investing what you cannot afford to lose. If your investment turns sour, you may have no more ammunition for your next investment and, as a result, your well-being will suffer.
Experts say that while people's happiness increases with wealth, there appears to be a limit - US$75,000 (S$103,000) - beyond which they do not feel a greater degree of happiness.
The reason could be that people who are making more money are usually in more stressful jobs and have less time for family, friends and social work.
My solution to that is to know how much you really need for your retirement and find ways to have more sources of passive income. By doing so, your money is working harder but you need not.

7. Time with parents 
I am thankful that my ageing parents are living near me, which makes it easier to visit them often. The best gift for them is the gift of my time.

8. To keep to all my new year resolutions 

Source: The Sunday Times © Singapore Press Holdings Limited. Permission required for reproduction