What is a unit trust? 
Unit trusts pool together funds from many investors to create a much larger investment portfolio. This investment portfolio enables retail investors to enjoy the benefits of economies of scale such as buying and selling of assets, employing a fund manager and gaining exposure to a larger and more diversified portfolio. For individual investors, this may be prohibitively expensive to do on their own.
The unit trust is either managed by active managers trying to outperform the market or passive managers that try to mimic an existing index.
Even though your direct involvement is not required for the unit trust to continue functioning and investing, it does not mean you should turn a blind eye to it since you are putting your hard-earned money and future retirement income into it.
To learn more about a unit trust, you can rely on materials such as its prospectus, annual report, product highlight sheet and factsheet.

What is a factsheet for?
Many investors primarily rely on a unit trust's factsheet to better understand how their money is being invested in the unit trust. This is mainly because its prospectus and annual report tend to be lengthy documents filled with legal and technical jargons, while its factsheet is usually a two to three-page summary which is easier to read.
However, you should note that a factsheet is essentially a marketing tool and you need to sieve out the important information on it. Factsheets may contain great amounts of information on the funds which may be presented in different formats, varying from fund to fund. 

How to start reading a factsheet?
First up, we have to know what a factsheet looks like. Below is an example of how a factsheet may be presented. We colour-coordinated the different parts of the factsheet that you should be paying attention to. View this factsheet in full here.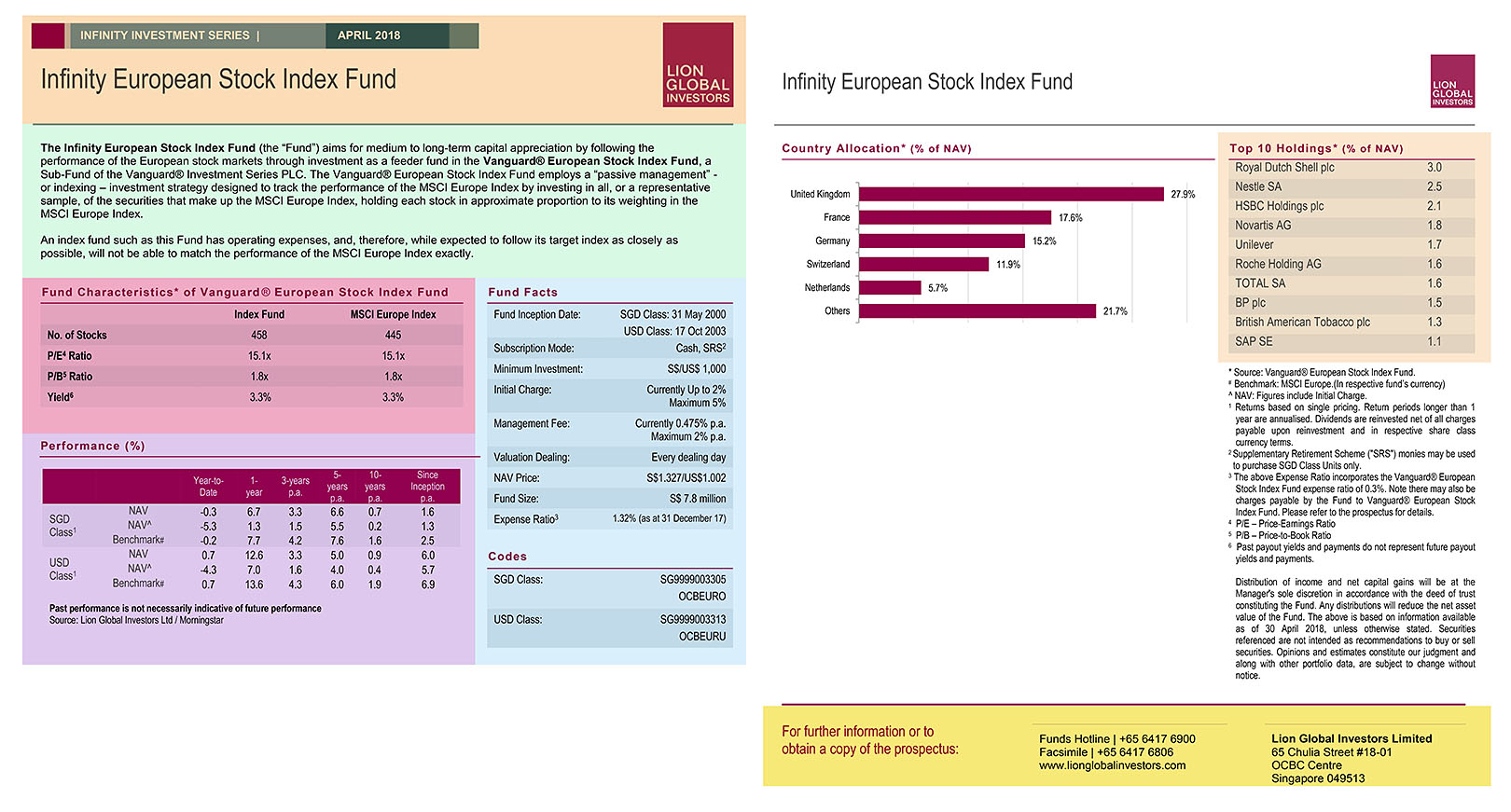 Fund (Orange segment)
The first thing you notice in a factsheet is usually the name of the fund. In this example, the fund's name is "Infinity European Stock Index Fund".
This gives you an indication of what the fund is about – the words "European" and "Stock Index Fund" lets you know that the fund is likely focused on European stocks and it could be a passive fund.

The next most prominent element on the factsheet is the logo of the fund management company depicted on the top right-hand side. Lion Global Investors is part of the OCBC Group. You could also do more research on the fund management company if you're not familiar with it. In certain instances, factsheets may also reveal the names of the actual fund managers.
Lastly, many funds run multiple series of a successful fund. In the top left-hand corner, you can see that this fund is part of the "INFINITY INVESTMENT SERIES". You can also do more research on this series of funds.

Fund Objective (Green segment)
The fund objective, should immediately confirm your initial understanding from the fund's name. From what's written in the objective, you can clearly tell that it is tracking the performance of European stocks and it is passively managed.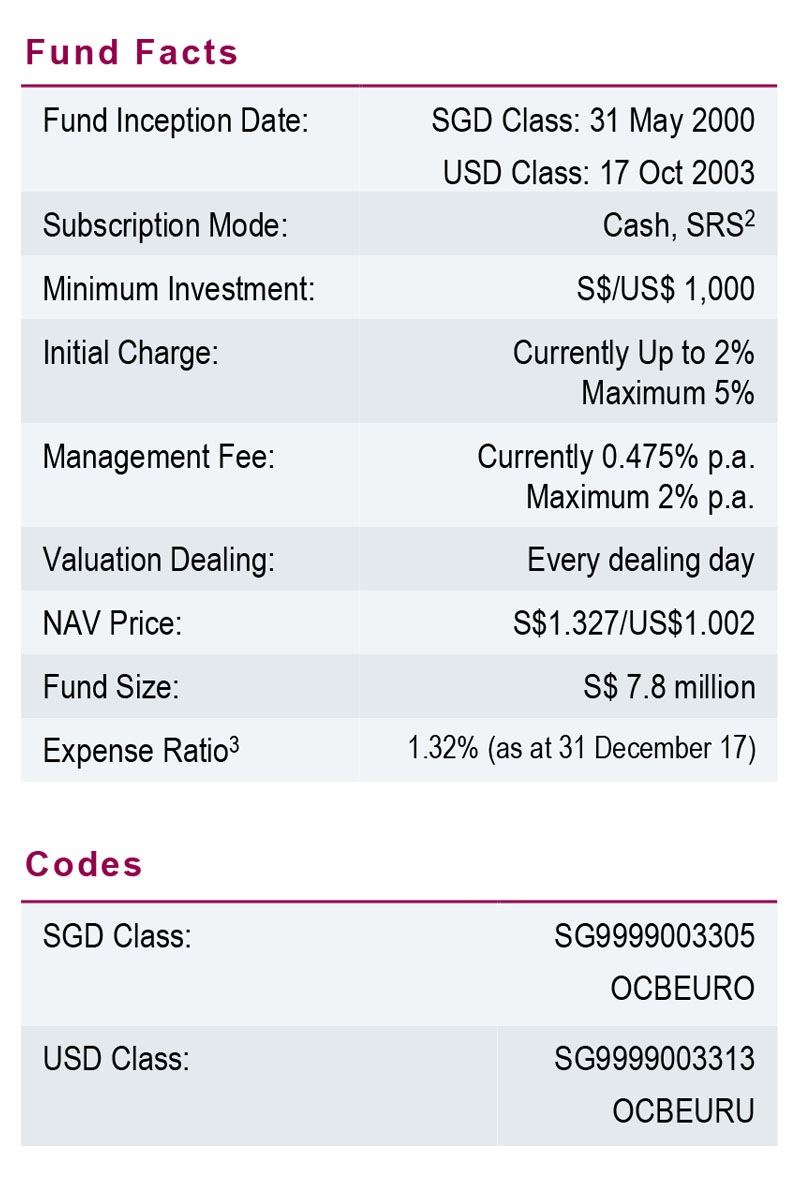 Fund Facts (Blue segment)

Here's where you will get some important basic information about the fund.
The fund inception date lets you know how long it has been around. This fund has been around since 2000, giving it close to two decades of track record Funds that have performed well over a long period of time are generally regarded as well-managed funds.
The fund size is also an important indicator for how popular and how well the fund is performing, especially one that has been around for such a long period of time.
It also depicts the costs you will incur investing in this fund, primarily the initial charge of 2% and the fund management fee of 0.475% per annum.
The expense ratio depicts how much the fund is spending on all types of expenses based on its assets. Typically, funds that are passively managed tend to have lower management fees, and hence a lower overall expense ratio, while funds that are actively managed have higher management fees and a higher overall expense ratio.
Lastly, the identifying codes are important if you want to do additional research across multiple platforms.

Characteristics (Red segment)
Many good funds will divulge information about the underlying shareholdings in their  factsheets . As this is a passive fund, you would expect it to hold a similar number of stocks to the index, as well as track other characteristics such as yield and price to equity (P/E) ratio or price to book (P/B) ratio.
You can see that the fund tracks its index very closely.

Performance data (Purple segment)
On the factsheet, you would usually be able to see how the fund has performed over the years. As this fund has a long track record, it illustrates its performance over the past 1-year, 3-year, 5-year and 10-year periods.
You can also see how the fund has performed compared to the benchmark it is tracking. There will be a difference between the fund's performance and its benchmark since it incurs costs and has a marginally different composition to the benchmark.

Country allocation (Grey segment)
As part of the fund characteristics, a factsheet usually divulges other information such as the allocation of its portfolio. This allows you to assess how well (or poorly) its holdings are diversified.
This fund shows its country allocation with 28% from the United Kingdom, 18% from France, 15% from Germany, 12% from Switzerland, 6% from Netherlands and 22% from Others, in line with its objective.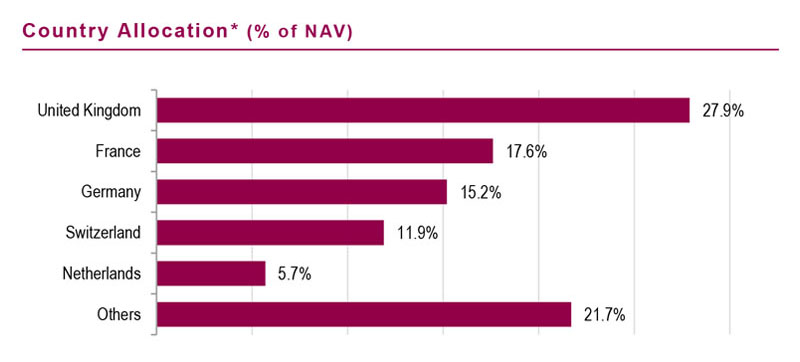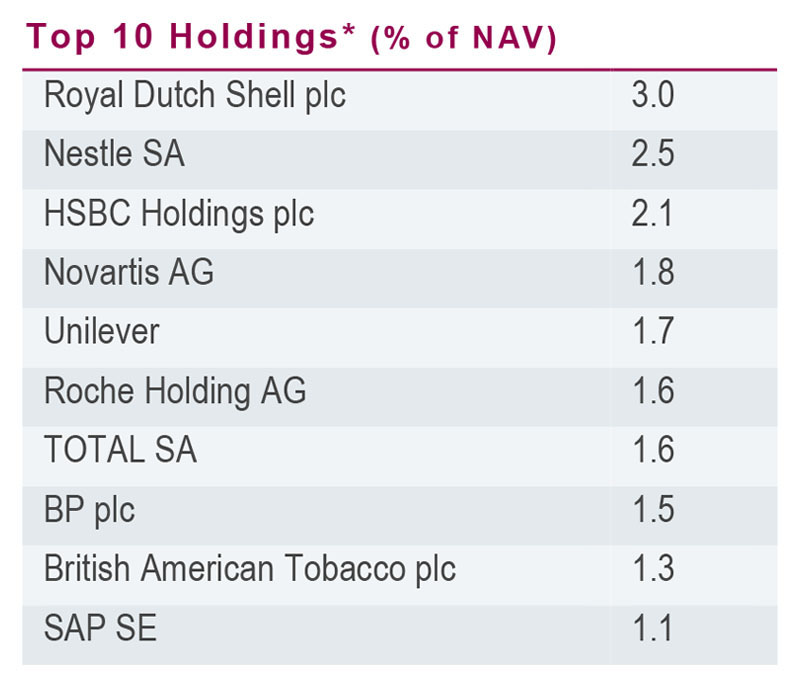 Top 10 holdings (Brown segment)

Further, you can usually see its top 10 holdings. This information also gives you an insight into how well-diversified its portfolio is, letting you know how much exposure the fund has to any single company as well as a snapshot of kinds of companies that the funds are invested in.
As you can see, its top 10 holdings comprise large multinational companies (MNCs). Also, by simply adding up the total exposure of its top 10 holdings, you would realise that they only make up close to 18% of its entire portfolio. Further, no single company will impact the fund by more than 3% of its net asset value.   

Factsheets are important, but not the end of your research
While factsheets are mercifully short, you should not use it as the only source of information. You can view a fund's annual reports and prospectuses, or even contact the fund managers to receive more information (yellow segment).

For more tips about investing and other personal financial decisions, subscribe to our monthly newsletter in the form below! If you're ready to take a step towards investing, get in touch with your preferred financial adviser representative to guide you on your journey to making good investment decisions.