Working hard all your life does not mean you will have enough saved to enjoy your golden years - a distressing outcome highlighted in a new survey.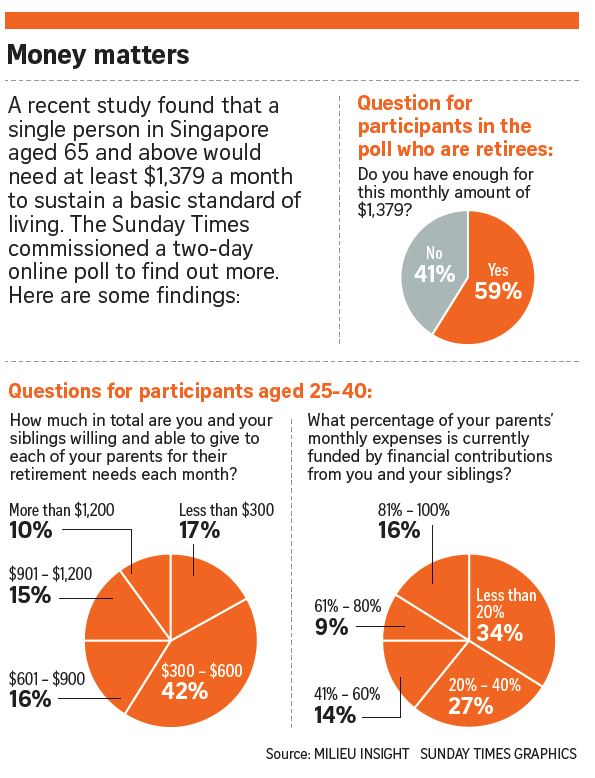 It found that around 60 per cent of retirees say they have a monthly income of at least $1,379, an amount experts recently recommended as necessary for a basic standard of living. But among the remaining 41 per cent, the online poll noted that 28 per cent of the group say they fall short by at least half the recommended amount.

And 52 per cent of the group with less than $1,379 say they expect help from their children while 55 per cent are looking to government assistance or charities. The online poll was commissioned by The Sunday Times and carried out last week by consumer research firm Milieu Insight.

It surveyed two groups - one comprising 553 residents over 45 (18 per cent are retirees); and the other, 1,407 residents between 25 and 40. The poll is representative of the national demographics for the two age groups.

Among the retirees, 62 per cent say $1,379 is either "more than enough" or "just nice", while 38 per cent feel the amount is inadequate. The poll found that 58 per cent of respondents over 45 who are not retirees say the amount is insufficient, while 51 per cent say they are not confident they would have $1,379 a month to live on by the time they retire.

Retirees have various sources of income: 69 per cent cite a mix of savings and other assets; 49 per cent have contributions from children or relatives; 38 per cent have Central Provident Fund (CPF) savings; and 13 per cent receive government assistance or donations.

Interestingly, folk over 45 who are still working feel they need to depend more on savings and other assets or CPF (both are cited by 78 per cent), while only 29 per cent say they would depend on children or relatives, and 23 per cent mention government assistance or donations.

The online poll follows the household budget study led by Assistant Professor Ng Kok Hoe from the Lee Kuan Yew School of Public Policy which found that a single person in Singapore aged 65 and above would need at least $1,379 a month to sustain a basic standard of living.
FINANCIAL PRESSURE
The help children give their parents was also reflected in the poll. It noted that 59 per cent of respondents aged 25 to 40 say they and their siblings can contribute up to a combined $600 to each of their parents, 31 per cent can give a combined amount of between $601 and $1,200 to each parent, while 10 per cent can give more than $1,200.

A notable 60 per cent of the younger age group are worried they would not have enough for themselves if they continue to support their parents in the future, given job instability, illness and having to support children of their own. Such worries are all too real for older people who are still working.

Researcher Magdalen Yeo, 52, hopes to retire at 55 but as she needs to support her two teenage sons through university as well as her parents, she thinks she will need to work until at least 65. Her husband, a former civil servant in his 50s who took time off work two years ago to look after their younger son, is now trying to rejoin the workforce. "I don't feel prepared for retirement at all. I live from month to month as a single-income household," said Mrs Yeo, who has to monitor her health regularly due to a heart condition.

Associate Professor Tan Ern Ser of the sociology department at the National University of Singapore said the worries expressed by the younger group of respondents stemmed from them not feeling financially secure themselves. He highlighted a past study on financial adequacy among seniors: "In my co-authored 2011 study, one out of four seniors (and near seniors) aged 55 years or older reported 'perceived current financial inadequacy' and almost one out of three reported 'perceived future financial inadequacy'.

"The top two reported reasons they gave were high costs of living and their own low income," he added. "I am not surprised that the proportion reporting 'financial inadequacy' is double digit, though the actual figures may be contested. I believe a more thorough study is needful, given that (around) 40 per cent is obviously a significantly high figure."
Source: The Sunday Times © Singapore Press Holdings Limited. Permission required for reproduction.