It is no surprise that MediShield Life premiums are poised to rise next year, since only a five-year moratorium was promised when the scheme was launched in November 2015.
Two proposals have ruffled feathers. One was the more than one-third jump in premiums for people aged 61 years and older. The other was the reduction of coverage for private hospital bills from 35 per cent to 25 per cent. The other proposed changes to the compulsory national healthcare insurance involve better coverage - such as higher annual claims as well as claims for daily ward charges - so no one is upset about them.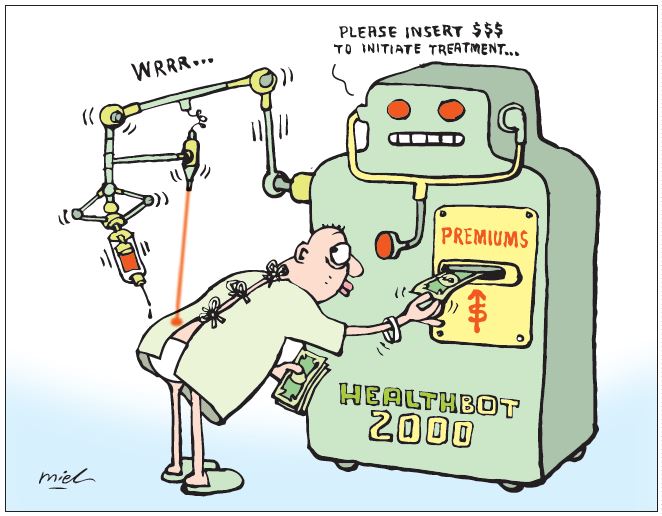 In fact, those changes are appreciated, as they strengthen MediShield Life as a scheme that covers 90 per cent of big subsidised bills. This is very important, especially for the 27 per cent of people here who have only the basic scheme to protect them.
Under the proposed changes, premiums are set to increase by 11.5 per cent for those aged 20 or younger, and by 34 per cent to 35.4 per cent for people aged 61 years and older.
Currently, only those aged 75 years and older pay more than $1,000 a year in premiums. With the changes, all who are 60 years and older will be paying four-digit premiums.
At the top end, premiums will go up from $1,530 to $2,055 for seniors 90 years and older - a group unlikely to be still working and contributing to their Medisave accounts. There are more than 20,000 people in that age group.
While no one likes to pay higher premiums, it is understood that they are necessary, not just for the better coverage the MediShield Life Council is suggesting, but also to keep up with healthcare inflation, which is about 4 per cent a year.

Rising healthcare costs
Healthcare inflation has several causes. One is labour cost. Just as all of us expect our pay to increase with greater experience, so too do healthcare workers. We can't deny them this, just because they are in a more humanitarian field. Salaries are but one contributing factor. The bulk of the cost increase comes from better treatments and procedures.
Premium increases will be lower only if we are willing to settle for outdated treatments. But why would people settle for less than the gold standard? It's thanks to better healthcare that survival rates have improved. But with certain conditions such as cancer, survivors may require ongoing care to prevent recurrence - and this will add to the total healthcare bill.
Another reason for rising healthcare cost is the ageing population. Older people are more likely to have more serious ailments. More seniors end up in hospital and often take longer to recover, and thus end up with bigger bills.
But this last argument should not have an impact on MediShield Life premium increases, as the insurance is based on each age cohort paying for itself, with no cross-generational subsidy. Older people have already been paying higher premiums from the day the scheme was launched, to reflect this.

High premium increases
Better benefits and rising healthcare costs justify premium increases, but the question remains: why by so much?
MediShield Life will be reviewed every three years. So how much more will premiums go up by three years from now, and subsequently at each review?
The original premiums took into account that they would not rise for five years. If the actuaries have done their sums accurately, then the current increase is to take care of the expected call on the insurance till the next review in three years' time. If this is the rate of premium increase we can expect at the next two reviews, older people must be prepared for premiums to more than double in a decade.
That is an unnerving prospect.
To be fair to the Government, it has put in place subsidies for half the population and Medisave top-ups for seniors. MediShield Life premiums are also structured so that younger people pay higher premiums, but will get rebates when they are older. Current rebates range from $12 to $537 a year, but may be adjusted in future.
All that is well and good. Nevertheless, the question remains: Where does the need for 35 per cent higher premiums come from? The Government has given the assurance that the steep hike is not due to the high cost of fighting Covid-19, since the data used for the calculations was up till last year, or pre-pandemic.
MediShield Life is pegged at subsidised treatments at public hospitals. Are the bills growing so quickly because the subsidy from the Government is not enough?
Last year, it was revealed that MediShield Life coverage had dropped from 90 per cent of qualifying subsidised bills to just 80 per cent. This was subsequently corrected.
Are the higher premiums to pay for that? One must also get to the root of what accounts for the shortfall.
Is it due to some miscalculation on the bills that patients - especially the older ones - would tot up when the scheme started?
Have there been runaway bill increases at public hospitals for subsidised patients?
Have subsidies by the Government been insufficient to cover 65 per cent to 80 per cent of hospital stays in C-class wards for Singaporeans, and 50 per cent to 65 per cent in B2-class wards, resulting in patients being faced with bigger bills that insurance needs to cover?
If it is either the second or third reason, then the Ministry of Health (MOH) needs to look into the matter and, more importantly, rectify it. Alternatively, the ministry may want to look at raising the premium subsidy rate it is giving to means-tested middle-income and lower-income citizens, or increase their Medisave top-ups, to reduce the burden of the higher premiums.
Yes, the Government will be providing Covid-19 subsidies for the first two years, but a more permanent subsidy is needed for the less well off, as the higher premiums will become a fixture - on which future premium hikes will be based.
Of course this means that people who do not qualify for the subsidy or top-ups will have to fork out the higher premiums. But as they are better off, and the dollar value of the premium increase ranges from $15 to $525 a year, it should hopefully be affordable for them.

Cutting private hospital claims
The MediShield Life Council has suggested that the pro-ration payment for private hospital bills be reduced from 35 per cent to 25 per cent. It will continue to pay 35 per cent of the bills for private B2-class and A-class wards at public hospitals.
This is unlikely to deter patients from seeking treatment at private hospitals, despite some doctors in the private sector expressing such fears. Those who do go to private hospitals are almost certain to be the 73 per cent with private integrated plans, or IPs.
The proposed changes to MediShield Life will have no immediate impact on them, as their bills are paid by whichever of the seven private insurance companies they bought their IPs from.
However, that pro-ration payment change - which reduces by almost 30 per cent the amount insurers will receive in claims from MediShield Life - would certainly impact the insurers, and will most likely lead to higher premiums for private hospital IPs.
About 1.75 million residents here held private hospital IPs as at last year. They account for 60 per cent of all IPs, the rest being for private A-class and B1-class ward care at public hospitals. The rationale for reducing the pro-ration amount stems from rapidly escalating private hospital bills that have made their claims on MediShield Life disproportionately large.
Since MediShield Life was designed to cover subsidised care, the payouts should reflect subsidised bills. In 2015, that meant 35 per cent of private bills were roughly equal to B2-class bills. B2 is already the more expensive of the two subsidised ward classes.
Now, however, 35 per cent of private hospital bills far exceed subsidised bills for the same treatment, resulting in public hospital patients underwriting much of the private hospital patient bills.
Let's take a quick look at a simple procedure - day surgery for a cataract in one eye. The median rate in a private hospital is $7,270. Paying 35 per cent of the private hospital bill comes to $2,545. Compare this to the median subsidised bill of $1,342 at a public hospital. Even when paying just 25 per cent, the amount MediShield Life has to come up with for the private hospital bill, at $1,818, is still much higher than the subsidised bill.
It could even be argued that the pro-ration amount should be reduced further for it to be equitable for subsidised patients.


How the bills compare
Ward type
Five-day inpatient stay with no surgery
Coronary angiogram with no other surgical procedures
Average bill size
Pro-ration to bring bill to B2 ward level
Average bill size
Pro-ration to bring bill to B2 ward level
B2 ward
$2,015
-
$2,470
-
A ward
$5,748
35%
$7,698
32%
Private hospital
$12,047
17%
$10,314
24%

Last year, MediShield Life paid out $95 million for 60,000 private hospital bills. A back-of-envelope calculation shows that if the pro-ration had been 25 per cent instead of 35 per cent, it would have paid about $27 million less last year.
An MOH spokesman said that over the past four years, "the number of private hospital claims receiving a payout has increased about 20 per cent faster than the overall growth".
Overall, the drop in pro-ration will help, but won't stem the climbing claims - which rose by $109 million last year. MediShield Life paid out $1,038 million for 684,000 bills last year, up from $929 million the previous year.
However, savings for MediShield Life mean that private insurers will have to fork out more. So it would be surprising if IP premiums are not raised. For the oldest age group, private hospital IP premiums now range from $5,842 to $12,167 a year.
The high private hospital bills are already causing a lot of angst among the IP insurers, most of whom are complaining of underwriting losses. Perhaps this is the bigger problem Singapore needs to solve if it wants to keep healthcare costs affordable.


Source: The Straits Times © Singapore Press Holdings Limited. Permission required for reproduction.