When you're young, it's easy to think that nothing can take you down. But the fact is accidents do happen and no one really knows if or when you'll suffer a debilitating sickness.
Seemingly harmless events like dancing at a party or a bout of flu can occasionally end up in a life-altering injury. Similarly, a serious illness like cancer or stroke could result in some other disabilities, preventing you from working for a long period.
Rather than borrow money or dig into your retirement fund prematurely to help tide you over during a disability, wouldn't you want to be able to transfer any future disability costs to an insurer? 

Disability insurance - what is it?
Essentially, disability insurance assures you of a payout in the event that you're no longer able to earn an income (or the level of income you used to earn); or you become unable to perform daily tasks you used to do independently (these are known as Activities of Daily Living (ADL)).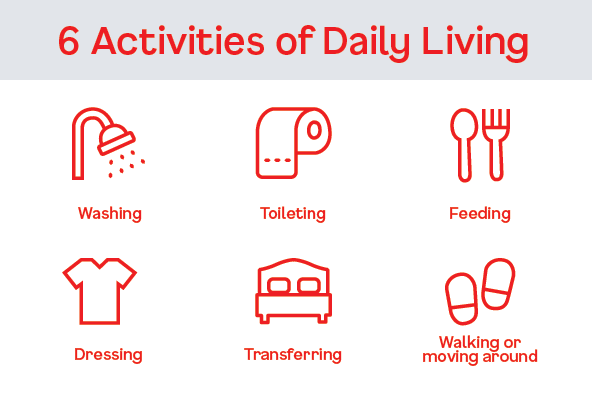 The disability could be the result of an illness, accident, injury or even old age. Examples of disability include the loss of use of both feet, loss of hearing, inability to walk and loss of speech.
Because a disabled person will need long-term care, there'll be one-time costs, like a hospital bed and home modifications to allow the use of a wheelchair, as well as recurring expenses, like occupational therapy and caregiver income.
Average monthly long-term care costs vary depending on your needs and whether your condition improves or deteriorates over time. Just a month in a nursing home alone can set you back by S$1,200 to S$3,5001 – a considerable sum when you're not earning an income and may have dependants to support.
A brief guide to disability insurance 
Get to know the three types of disability insurance:
| | | | |
| --- | --- | --- | --- |
| Type | Disability income insurance | Supplements to government schemes such as ElderShield and CareShield Life | Total and permanent disability insurance |
| What it does | Provides a monthly cash payout that partially replaces your paycheck if you're unable to work due to disability resulting from an accident or illness*. | Provides a monthly cash payout if you're unable to perform two or three of the six ADL, depending on the Supplement you purchase. | Gives a lump- sum cash payout should you be diagnosed as totally and permanently disabled*, in other words, there's a very low likelihood of recovery. |
| Payout amount | Your disability income amount is a percentage of your average monthly salary.   | You can choose your desired amount of payout from S$200 to S$5,000 per month, which will enhance the payout from your government long-term care insurance coverage, so you can pay for things like hiring a live-in helper or physiotherapy sessions. | Payout amount is known as the policy "sum assured", the same amount paid out in the event of death during the coverage term. |
| Payout frequency and duration | Monthly payouts for as long as you're disabled with some policies giving partial payouts as your condition improves. | Monthly payouts for as long as you're severely disabled. | One-time lump-sum payout. |
| How to get it | Can be purchased from insurer as a standalone plan, as long as you are earning a salary. | Can be purchased from selected insurers as a standalone plan as long as you have a CareShield Life or ElderShield policy. | It's a benefit provided with a life insurance or endowment plan, or you can add it as a rider, but it can't be bought as a standalone plan.   |
*Please refer to your respective policy documents for the definition of disability and permanent disability as this may vary from insurer to insurer.

What does disability insurance cover?
Aside from the main benefit of a monthly or lump-sum payout, a disability plan may offer other benefits.
For example, Singlife's Supplement to CareShield Life, MyLongTermCare, offers some other benefits in addition to the monthly payouts:
dependant care benefit for up to 36 months if you have a child aged 21 and below 
caregiver relief benefit for up to 12 months
option to increase your coverage at key events in life, such as when you buy a property, without worrying that changes in your health status will affect your ability to do so
Do you have to get disability insurance now?
The best time to get it is during your working years, when
it's easier to secure coverage because of your age and state of health
premiums are cheaper when you're younger
you have the income to pay premiums
you have dependents who rely on your income to get by should the unexpected happen
However, don't just buy a disability plan for the sake of it and don't just settle for the plan with the lowest premium. Compare the benefits of the various options available and pick a level of coverage that will suit your needs or a plan that can be adapted to your circumstances.
Speak to your financial adviser representatives or contact us to find out more about how disability insurance plans like MyLongTermCare can give you the assurance you need.

Important Notes
1The Sunday Times© Singapore Press Holdings Limited. Extracted with permission. "Singapore nursing home models 'need to balance benefits, cost'", 31 July 2016.